Date: Thursday 15 April 2021
Venue: Online
Category: Online
---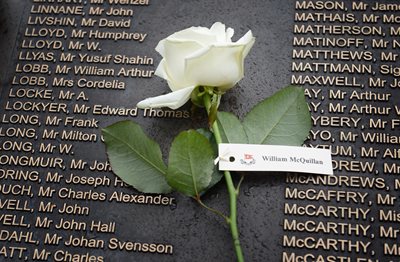 This year is the 109th anniversary of the sinking of RMS Titanic and we're marking it in partnership with Belfast Titanic Society.
Although we are unable to hold our usual memorial event in Belfast City Hall's Titanic Memorial Garden, we have produced a short video to remember all those who tragically lost their lives on the fateful night of 15 April 1912.
The video includes a short address from the Lord Mayor of Belfast, Alderman Frank McCoubrey and the President of Belfast Titanic Society, Susie Millar as well as a prayer by the Reverend Ian Gilpin.

Join us on 15 April as we pay our respects to those dearly loved men, women and children taken before their time - whose loss is still felt by their descendants across the world.
Watch the video
This video is nine minutes and 12 seconds long.
The bronze plaques in the Titanic Memorial Garden, display the names of those lost in the disaster. This is known as The Belfast List (link opens in new window).