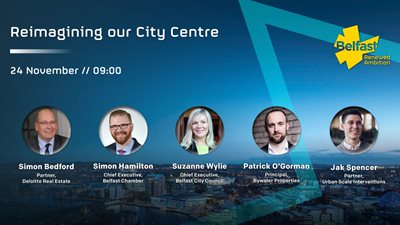 Belfast – our region's capital and gateway city – has long been recognised as a vibrant, energetic, diverse, fun, cultural city, attracting workers, students, tourists and visitors whilst delivering an excellent quality of life for residents because of its unique personality, gritty sensibility, local humour, connected communities and diverse aesthetic.
Like cities around the globe, COVID-19 has hit our city centre hard. But, this is only a temporary situation.
We are ramping up our existing plans and ambitions to inject new life and energy, to revive our city core, to ensure Belfast reaches its true potential as a dynamic place in which to live, work, study, play, visit and of course, invest.
So, what is the current picture in our city centre and how do we make Belfast the city we all want it to be?
What is Belfast City Council and its Northern Ireland Executive partners doing to support the city as we live with COVID-19, and what are the plans to continue the transformation of the city into a dynamic, vibrant, green, liveable city?
What are the short-term wins and longer-term goals and how important is community collaboration in driving our city back to its former glory?
How will real estate pivot to meet the needs of our future city centre as a place to visit, work, invest and live?
Speakers:
Suzanne Wylie, Chief Executive, Belfast City Council
Simon Bedford, Partner, Deloitte Real Estate
Patrick O'Gorman, Principal, Bywater Properties
Simon Hamilton, Chief Executive, Belfast Chamber
Jak Spencer, Partner, Urban Scale Interventions
Chair:
David Elliott, Senior Client Director, Lanyon Group