This page is more than a year old and may not contain the most up-to-date information.
Date: 19 Jan 2021
---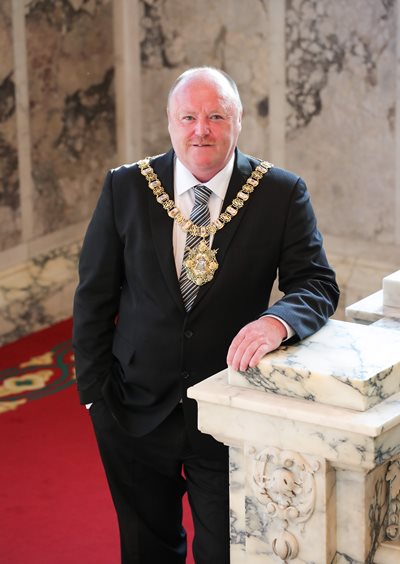 Belfast Lord Mayor Alderman Frank McCoubrey has said important lessons can be learned from reflecting and remembering the Holocaust, and other genocides which followed.
Alderman McCoubrey was speaking ahead of hosting this year's commemoration, usually held at City Hall; but due to the ongoing pandemic, the event on Tuesday 26 January will be virtual.
"Holocaust Memorial Day is a day when, each year, we take the time and space to recall all those who suffered unimaginable horrors in the Holocaust and subsequent genocides," said Alderman McCoubrey.
"We should never forget how such events came about. Remembering these terrible events should reaffirm our commitment as a society that we must continue to oppose and expose all forms of hatred. Sadly, intolerance and hate still exists in our communities so we all have a responsibility to face that head on, and learn lessons from the terrible events of the past."
This year's theme is 'be the light in darkness'.
Alderman McCoubrey said: "Over the years, we have heard from people who survived the Holocaust and their testimony has been difficult to hear, their pain unimaginable; but continuing to share their stories is so important.
"We must continue to reflect on our responsibility and power to interrupt the expressions of hatred and other forms of prejudice that foster separation and hatred. I believe that people also have the capacity to carry out wonderful acts of kindness, and we must encourage and support each other to stand up to prejudice, and unite against hatred."
Professor James Waller, Cohen Professor of Holocaust and Genocide Studies at Keen State College, New Hampshire, will be joining Lord Mayor next week for the online event, and discussing why the Holocaust matters and is still relevant today.
Prof Waller said: "As we commemorate the victims of the Holocaust, we are challenged to also recognise it as a historical event with contemporary lessons for today's deeply divided world. Commemorating the Holocaust is to be reminded of the diligence necessary to promote and protect human rights, the deep commitment to nurture inclusive democratic institutions, and the willingness to see our neighbour in the face of 'the other', rather than as a threat. Commemoration of the past must be followed by responsibility to the present and our shared future."
The event will take place via Zoom on Tuesday 26 January (12pm-1.30pm) and registration is now open. For more info visit www.belfastcity.gov.uk/events