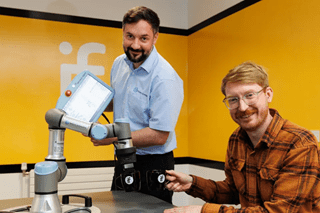 One of Ireland's largest robotics providers is setting up a new base in Belfast to be closer to the rapidly growing Northern Ireland manufacturing market and to boost its export trade into Great Britain.
One of Ireland's largest robotics providers is setting up a new base in Belfast to be closer to the rapidly growing Northern Ireland manufacturing market and to boost its export trade into Great Britain.
Reliance Automation has moved into Innovation Factory, where it is receiving support and advice, while the company develops ambitious plans to open a new, modern facility to house its huge range of automation technology from market leading universal cobots to industrial robots, grippers, mobile robots and electric actuators.
In the last year, the company has seen substantial growth in Northern Ireland, which now accounts for approximately 70% of its new automation sales. The company puts this massive rise in demand down to Brexit and a need to automate as it is so difficult to fill jobs.
Employment in the Northern Ireland manufacturing sector has grown more than four times faster than the rest of the UK while unemployment rates have declined, which has led manufacturing companies to seek alternative ways of meeting production demands.
Automation manager Gerry Graham of Reliance Automation, said: "There has been a significant increase in activity in Northern Ireland over the past few years and this has snowballed recently. This is absolutely a result of the great successes of manufacturing companies as well as the barriers to trade caused by Brexit."
The 100-year-old company has offices in Dublin, Cork, Limerick and now in Belfast, so that it can work closely with its clients, supporting their needs by offering the widest range of global leading automation technology. The new Belfast facility will employ at least three new people by 2024.
Gerry explained: "Our Belfast base completes the circle, giving us access to all the markets in the region and allowing for increased and smoother trade within both Northern Ireland and Great Britain. We offer a whole service to businesses, not only selling robots and cobots, but offering training and partnering with installers so we can support the customer from start to finish. Having an experienced team and modern facility in Northern Ireland became a necessity as the market here has grown so quickly."
He explained that Northern Ireland is famous for heavy industrial manufacturing in areas such as aerospace and defence, construction and material handling but there is a shortage of skilled workers that can be fulfilled by automation.
"About 90% of automation applications are still industrial and require caged heavy-duty robots. Dangerous, precise, dirty, and high-speed processes such as welding, assembly, high speed pick and place and heavy lifting can be carried out using industrial robotic equipment," he continued.
While the company searches for its new dedicated location, it is currently operating out of the Innovation Factory. It chose this site for its convenient location close to the motorways, the quality of its facilities and the excellent business support offered by the team at the centre.
"We really like being surrounded by other innovative companies who are bringing the latest tech to a wide range of industries here. We've also enjoyed the support Innovation Factory offers through its events, networking, help with grant applications and market advice," Mr Graham added.
Innovation Factory is owned by Belfast City Council and operated on its behalf by Oxford Innovation Space. The £9.1m business hub was funded by Belfast City Council and Invest NI with support from the European Regional Development Fund.
Innovation Factory Centre director Neil Allen, added: "'Our aim is to facilitate economic growth in Northern Ireland and to be the home of entrepreneurship in west Belfast. The solutions that Reliance Automation is offering to manufacturers are essential in the current economic climate. We are delighted they chose IF as their base in Belfast."
In conjunction with the Northern Ireland Technology Centre and Queens University Belfast, Reliance Automation will host its ninth automation roadshow in September, which is open to businesses and students. The company has a strong ethos to support education and develop the next generation of engineering students.
The roadshow showcases the newest technology on the market and allows visitors to view and program the equipment. The company's expert team will be on hand to answer technical questions and offer support and one to one advice so companies are encouraged to bring plans and parts for reference.
The events, which are free to attend but require prior booking, will be held at Ulster University at Magee Campus in Londonderry on September 20 and Innovation Factory on September 21.