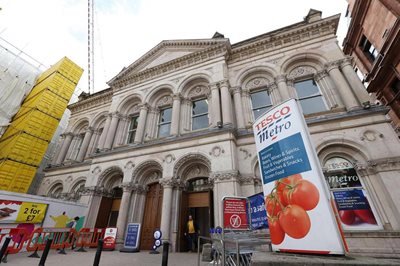 An application to convert a former Belfast city centre Tesco store into a mixed community space with an entertainment licence has been filed by Belfast City Council.
The plans, for 2 Royal Avenue, include a large market hall/event space at the rear of the building.
The front half of the site features a reception area, a 'servery' for heated or cold foods, pods, a gallery and a stage area.
The application says the plans are temporary only, spanning around two years, with cultural and community use the focus.
Belfast City Council purchased the building in October.
In a statement about the new planning application, it said: "Our new venue at 2 Royal Avenue, one of Belfast's most recognisable listed buildings, is an exciting proposition for the city as we move forward on our Covid recovery journey.
"We're currently exploring options for both meanwhile and permanent uses of this important heritage building in the heart of our city centre, once a former bank and more recently a Tesco Metro store.
"We believe it's important to be creative and ambitious about reimagining how we use the buildings and spaces in our city centre to cultivate a vibrant and attractive offering - not just for tourists and visitors, but for our residents as well."
Source: Belfast Telegraph