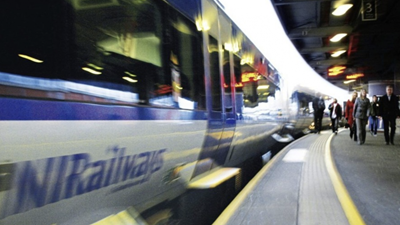 Arup has been appointed to take forward the All Island Strategic Rail Review.
The All Island Strategic Rail Review will consider how the rail network on the island of Ireland can improve sustainable connectivity between major cities, enhance regional accessibility including to the North West and support balanced regional development. In addition, the Review will consider the feasibility of high-higher speeds on the network and whether there is a potential to increase use of the network for freight.
Welcoming the appointment, Infrastructure Minister Nichola Mallon said:
"This is important step forward in delivering our All Island Strategic Rail Review which will allow us to consider and improve our network across this island for everyone.
"This review expands on the commitment under the New Decade, New Approach agreement to examine the feasibility of a high/higher speed rail link between Belfast, Dublin and Cork by now including Derry and Limerick. Minister Ryan and I have a shared ambition for rail and are committed to tackling the climate emergency. We are therefore keen that we use this opportunity to advance travel and tourism connections but also to improve the environment.
"This review will examine the potential for rail connections across the island including how our existing connections could be improved and where new rail links would be best placed. It will also review how we can connect our rail network to our international gateways through our ports and airports. The review will consider the use of transporting freight across our island using the rail network whilst considering how we can move to a low or zero emission rail network as we seek to tackle the climate emergency."