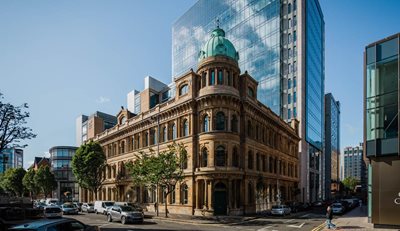 Two new tenants have been signed up to The Ewart – a new £85m Belfast city centre office development.
It is now on course to be fully let after Axa Insurance took space on the 14th floor, while recruitment company MCS Group is due to be on the 10th floor.
Business advisory firm Deloitte and financial services company Evelyn Partners have already been signed up for 81,000 sq ft and 11,484 sq ft respectively.
The restoration of the listed Grade B+ former Ewart warehouse is the final phase of the Bedford Square regeneration project, led by MRP. The warehouse building has been transformed to connect to a new 17-storey tower at the back.
Stephen Surphlis, managing director of MRP, said: "We are delighted to welcome Axa Insurance and MCS Group, two successful and ambitious businesses, to The Ewart.
"They will significantly add to the dynamic and diverse range of global businesses that are locating their head offices in our landmark office in Belfast city centre.
"This level of demand for The Ewart, which we are confident will continue in the weeks ahead, is a testament to the innovative, sustainable and high-quality features within the iconic building, which is now one of the most sought-after office spaces in the city."
Robert Ditty of CBRE, the leasing agent for The Ewart, said: "The Ewart is an outstanding office development with digitally connected and sustainable office accommodation which is a great fit for the vision of many businesses in Northern Ireland.
Source: Belfast Telegraph (link opens in new window)