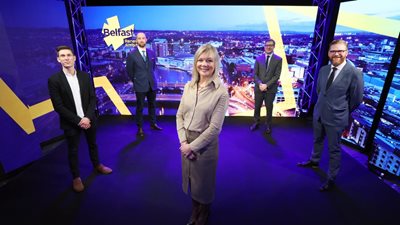 Belfast has a host of advantages over its nearest rivals which are helping its city centre recover and reimagine itself in the wake of the Covid-19 pandemic.
That was the conclusion of a live webinar event – Reimagining Our City Centre – held in the city yesterday (Tuesday) which found Belfast's host of independent shops, strong cultural and heritage offering, relatively compact size and its growth in the creative and tech sector industries mean it already has many of the building blocks in place to draw people, business and investors the city core.
Panellists at the event, who came from across the public and private sector, are confident that with the right leadership and support, Belfast City Centre will be able to ride out the worst impact of the pandemic compared to other cities of the same size and that its unique mix of assets mean it will be primed for a buoyant, albeit different, future.
Held as part of the Renewed Ambition series of events and workshops, the event brought some of the city's key stakeholders together including Suzanne Wylie, Chief Executive of Belfast City Council; Simon Bedford, Partner, Deloitte Real Estate; Jak Spencer, Partner, Urban Scale Interventions; Patrick O'Gorman, Principal, Bywater Properties and Simon Hamilton, Chief Executive, Belfast Chamber.
Simon Bedford said: "Belfast is not unique in the circumstances it finds itself in after Covid but it is lucky in that it has already been going through the process of reimagining its city centre, so it has a headstart on others. That includes making the city's spaces safer and more attractive, building more city centre homes, as well as improving access via public transport and regenerating key areas in the city.
"Similarly, it has a strong and resilient independent retailers, which not all cities are lucky enough to have. That is key because diversification of retail is going one of the most important things for this sector's recovery.
"And of course Belfast City Centre is relatively compact which plays into the growing popularity of the 15 minute city where everything is accessible within a quarter of an hour walk or cycle. That, combined with Belfast's neighbourly feel, means people are going to want to live in the city centre in the future, bringing even more life, culture and opportunity."
Belfast City Council Chief Executive, Suzanne Wylie said: "There's no doubt that Belfast city centre has faced significant challenges due to the ongoing pandemic; however, even before Covid, we had started the process of reimagining the city centre, and that work has continued throughout recent months and will play a crucial role in the city's recovery.
"Our Future City Centre Programme is focussed on city centre living and boosting connectivity, as well as bringing forward regeneration initiatives both large and small, from the Belfast Entries project, to a new park in Cathedral Gardens, to a world-class visitor attraction telling Belfast's stories. We continue to work and collaborate with a range of public, private and third sector partners to reshape the city.
"This will include delivering the Bolder Vision for Belfast aimed at reimagining how our city centre streets and places are used, making them more attractive, livable, vibrant and accessible. In a wider context, we are also accelerating existing plans to bring forward new housing and to deliver £850 million Belfast Region City Deal, the £8.3 million investment in enhancing digital infrastructure and digital access, the creation of an Innovation District, Smart City Core and Smart Port to showcase our global ambition and digital capability and the delivery. Through delivering our 'A City Imagining 2020-30' strategy will also expand the tourism and cultural offer that is the lifeblood of Belfast.
"We know that Belfast is a great city to live, work and play, so we are optimistic about our ambitions because we know we already have the building blocks and plans in place, and we are confident that Belfast has a bright future, a different future from what has gone before, but no less exciting."