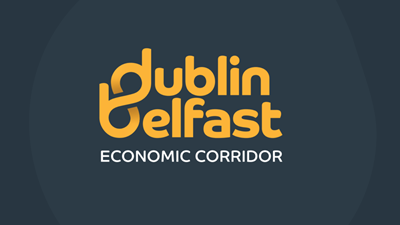 Belfast City Council is one of eight local authorities from either side of the border that came together today to launch the Dublin Belfast Economic Corridor – set to transform the region's prospects for economic recovery.
It is hoped the corridor could be the equivalent of the Northern Powerhouse or the Malmo-Copenhagan Tech Region (Oresund), both of which have created larger functional economies of international scale to ensure they have a more resilient response to the ongoing pandemic, economic cycles and geopolitical challenges.
A joint report by Ulster University and Dublin City University published today, concludes that this is an opportune time to create a north-south economic corridor given the challenges the region faces as it comes to terms with the impact of the UK's exit from the EU, and the Covid19 pandemic.
The report sets out the potential of the Dublin Belfast Economic Corridor to link north and south, its universities and business clusters, as well as having the ability to collaborate on a growth plan which will benefit the whole region.
Councillor Christina Black, Chair of Belfast City Council's Strategic Policy and Resources Committee said: "Driven by the two largest cities in Ireland, along with the cities along the corridor that joins them, this renewed and ambitious collaboration has huge potential to drive our future economic development, and it's encouraging to see us taking this step forward as we look ahead to our recovery from Covid.
"Opportunities exist to grow indigenous business, establish clusters of key sectors, bring in further investment, leverage collaboration between our universities and business support agencies, and use the corridor as the driving force for economic development in the region and nationally."
In 2018, the eight Councils located along the corridor and the two universities came together to work collectively to find ways of realising the potential benefits of further development of the corridor. This led to the establishment of a partnership steering group made up of the eight Council Chief Executives and the Presidents of the two universities who committed to meeting quarterly.
The steering group's immediate objective is to leverage the network's resources in areas which can have a positive impact and add significant value to the economic development of the region at a time of great economic and social uncertainty.
Councillor Black added: "The corridor is one of a number of economic areas on the island that needs a focused plan to realise its full potential to deliver for the people who live here. It should sit alongside plans for the North West, Mid Ulster and other regions in Ireland, to boost inclusive growth across the island. This opportunity should not be lost if we are going to stand out globally.
"The Dublin Belfast Economic Corridor is referred to in both the NI Executive's New Decade New Approach, and the Irish Government's 2040 plan with both documents recognising that the main clusters of population, immigration, and business growth, are along the eastern seaboard and that it is incumbent on government at all levels to support and supercharge this growth for the prosperity of both NI and ROI.
"They also recognise the need to improve the connectivity along the corridor with investment in infrastructure which will also enhance sustainable development and it is noteworthy that the North South Ministerial Council is undertaking a feasibility study on rail connectivity."
Following today's launch, a more formalised political structure will be established across the eight local authorities to drive progress.
Belfast City Council Chief Executive Suzanne Wylie said: "Belfast City Council is very much committed to working with the other partners to realise the full potential and opportunities that exist for the benefit of the entire region. The most successful future economies will be those which focus on increasing productivity, which are more resilient to shocks and which are inclusive, addressing current inequalities.
"This corridor, anchored by two cities that are leading the way on innovation and smart districts, will have the scale and level of opportunity to create thousands of better jobs and at the same time work to solve our climate crisis as well as labour, skills and housing shortages and infrastructural underinvestment."
The report states that the region has a population in excess of 2 million people and is younger and more diverse than any other part of Ireland with 15% born off the island. It also has the best educated workforce with 34% of the population holding third level qualifications thereby creating an excellent pipeline for concentrations of jobs requiring graduates.
It goes on to point out that in 2019, there were 125,000 firms located along the corridor with entrepreneurship and survival rates higher than elsewhere in Ireland and more people employed in mid-sized and large businesses than anywhere else.
Key sectors along the corridor include advanced manufacturing, ICT, agri-food, professional services, financial services, construction and tourism while among the challenges facing the overall region in the coming years are adapting to Brexit, climate change and transformation to a low carbon economy, low population density and an ageing population.
The launch event, which was hosted by economist David McWilliams, featured interviews with Northern Ireland's Minister for Finance, Conor Murphy MLA; Tánaiste and Minister for Enterprise, Trade and Employment, Leo Varadkar TD; Minister for Housing, Local Government and Heritage, Darragh O'Brien TD, and Robin Walker MP, Minister of State for Northern Ireland.
Professor Eoin Magennis of Ulster University and Professor Deiric O'Broin of Dublin City University, who researched the subject and developed the report, outlined the strategic vision for what is possible along the Dublin Belfast Economic Corridor while Owen Keegan, Chief Executive of Dublin City Council, and Suzanne Wylie, Chief Executive of Belfast City Council addressed the online audience which was drawn from the political, business and education spheres in both jurisdictions.
A video about the long-standing co-operation between Louth County Council and Newry, Mourne and Down District Council was also shown and featured interviews with Joan Martin, Chief Executive, Louth County Council; Marie Ward, Chief Executive Officer, Newry, Mourne and Down District Council; Sean O'Connor, Chief Operations Officer, STATSports; and Eamon McKey, Chief Operations Officer, Deli Lites.
A moderated panel discussion featuring themes of business, agencies and politics set out the vision for what's happening and what's possible and featured AnnMarie Farrelly, Chief Executive, Fingal County Council; Professor Daire Keogh, President, Dublin City University; Margaret Hearty, Designated Accounting Officer & Director of Business Services, InterTradeIreland; Niall McEntegart, Director, Data Center Site Operation (EMEA & APAC), Facebook; and Trevor Lockhart, Chief Executive, Fane Valley Group.
Also, among the online attendance were the eight leaders of each Council, councillors from across the region and the eight Council Chief Executives as well as members of their senior management teams.