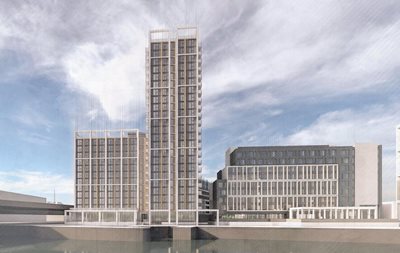 Plans have been progressed for a large residential apartment scheme next to the M3 Lagan Bridge in Belfast.
Belfast Harbour has now formally entered the planning process for the City Quays 4 scheme, which is expected to include around 270 units next to the AC Marriott Hotel.
Harbour bosses originally announced its plans for the build-to-rent residential development in 2019.
But commissioners have held off on entering the planning process until the completion of the recently opened City Quays 3, which is now the largest grade A office development in Belfast.
Belfast Harbour has also thrown its weight behind Lacuna and Watkins Jones' £117 million 'Loft Lines' apartment scheme on the opposite side of the Lagan.
Planning approval was officially issued for the 778 residential units in August this year.
Work on the waterfront scheme next to Titanic Belfast was due to begin before the end of 2022, but according to CIS Ireland, work will not begin until "at least spring 2023", with the industry monitor citing "the financial climate".
Belfast Harbour's City Quays 4 scheme represents the culmination of its £275m waterfront building project that began in 2014.
The land on Donegall Quay is currently being used as a surface level car park.
A new website outlining the proposal states: "City Quays 4 will be designed for the build-to-rent market and will offer rent-only apartments that are professionally managed by an operator.
"The proposals are part of the continued implementation of the City Quays masterplan which has seen this area transformed in recent years.
"The plans include a mix of studio, one and two-bedroom homes, complemented by public and private communal spaces located inside and outside the building, including co-working space, a gym and 24-hour Concierge Services."
Belfast Harbour also announced plans for 'City Quays Garden", with an initial £3m to be spent on creating a two-acre green public space on land adjacent to the City Quays buildings and the historic Commissioners' harbour offices.
Source: Irish News (link opens in new window)