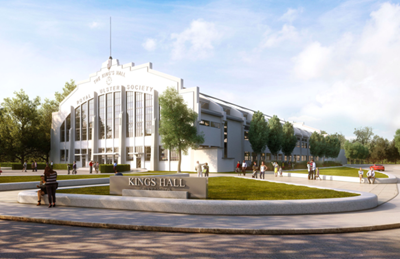 Belfast is able to offer inward investors a unique opportunity in a post-Brexit world by giving them access to the markets of both UK and European Union.
That was the message from the latest MIPIM webinar entitled 'Examining the UK's Regional Recovery' which saw some of the main stakeholders in the city reinforce its key investment credentials including a skilled talent pool, a healthy business ecosystem, a high standard of living and a relatively low cost base.
Speaking as a guest at the event, Steve Harper, Executive Director of International Business at Invest Northern Ireland, said the potential for Northern Ireland in a post-Brexit world is only now beginning to come to light.
"The trade agreement was only signed a few weeks ago but already we're starting to see opportunities which would allow companies to come to Northern Ireland, design, develop and commercialise a product which can automatically be sold into two of the world's largest markets – the EU and the UK.
"It is early days but we're working through the implications of the withdrawal agreement and the protocols, but my gut feeling is that there are great opportunities. Myself and the team at Invest NI will be doing all we can to promote Northern Ireland all around the world."
Suzanne Wylie, Chief Executive of Belfast City Council, said the city has a host of attributes to tempt investors but stands out for a number of reasons.
"Every investor that comes here really is taken aback by the great things happening in the city. Public and private sector investment is still happening and organisations such as Translink, Belfast Harbour and Titanic Quarter are continuing to work on major regeneration projects.
"As well as returns that are better than other major cities across the UK and Ireland, Belfast has so many opportunities for development. City centre living is just one of these and we are currently looking at how we can collaborate with other organisations to incentivise this further.
"We have all the fundamentals in place to bounce back in a post-Covid world to get back on the growth trajectory the city was enjoying before the pandemic," she said.
Professor Ian Greer, President and Vice-Chancellor of Queen's University Belfast agreed that Brexit will provide opportunities for Belfast and Northern Ireland, particularly with the US.
"Brexit creates an interesting new relationship between Northern Ireland, the Republic of Ireland and North America. We have the opportunity to approach doing business across the UK, across Ireland and further afield so we can attract inward investment."
As well as Suzanne Wylie, Steve Harper and Professor Ian Greer, the event heard from a panel – moderated by property journalist Anna White – also consisting of Joe O'Neill, Chief Executive of Belfast Harbour and Chris Conway, Chief Executive of Translink.
They discussed how the city has plans in place to build back better in the wake of the Covid pandemic toward a zero carbon future, one which works hand-in-glove with a rejuvenated economy.
Those plans will centre around the £850 million Belfast City Region Deal, one which will use public sector investment to stimulate private sector investment and to boost high growth sectors.
"The Belfast City Region Deal is of fundamental importance to the future of our economy," Professor Ian Greer said. "As part of that, Queen's University Belfast will help with building the skills base for the future workforce in Northern Ireland and also by using our innovation to attract new companies."
Joe O'Neill said Belfast has a great track record in "deliverability" and pointed to the 430,000 square feet of Grade A office space in the harbour estate currently under construction.
"We will come out at the end of the year with the first new tailored office model in Belfast post-Covid," he said. "We are in a great place to respond to the demand for re-thinking office spaces post-pandemic."
Meanwhile, Chris Conway said Translink's Belfast Transport Hub – Weavers Cross – will be a huge boost.
"Transport hubs can be transformational for cities and have the ability to create additional high-quality development opportunities. Weavers Cross will be one of the most important development opportunities in Belfast over the next five to 10 years. It supports the Belfast Agenda in attracting more people to live, work, play in the city centre.
"The Belfast Transport Hub will be a powerful engine for energy and growth and a catalyst for the positive change for Belfast toward sustainable and active travel of the future. These types of innovation will make Belfast one of the world's most sustainable cities."