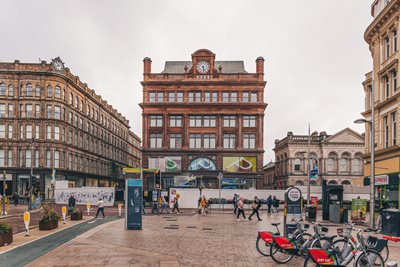 Footfall figures in Belfast in November increased by 5.7 per cent compared with the same period before the pandemic, making it the only UK city to witness a a positive reading.
That was the biggest takeaway from the Northern Ireland Retail Consortium's data covering the four weeks from 30 October to 26 November 2022.
It also revealed that while overall footfall – that which covers the high street, shopping centres and retail parks here – was down 7 per cent compared with the same period pre pandemic, but it was still notably higher than other parts of the UK which experienced an average decrease of -16 per cent.
Shopping centre footfall here declined by 7.3 per cent compared with pre-pandemic levels but it was still an improvement on October's -15.6 per cent.
Belfast was the best-performing city over the period with footfall up almost 6 per cent on November 2019's reading, comparing favourably to the next best performer, Manchester which experienced a decrease in footfall of -7.6 per cent YoY3.
During the period Belfast city centre welcomed the reopening of Primark's Bank Buildings store after four years of work following a fire which destroyed the building in 2018. Queues formed outside the store for days with many shoppers travelling from other towns and cities to visit the shop.
Women's wear brand Whistles opened its first standalone store in Belfast too in November, while gym wear brand Sweaty Betty set up shop in Victoria Square at the end of October.
Source: The Irish News (link opens in new window)