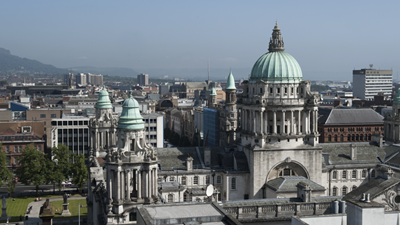 Belfast selected as Pioneer City to explore the ethical use of smart city technologies
As a 'Pioneer City', Belfast will collaborate with other leading smart cities and global experts to refine policies in areas such as privacy protection, cybersecurity, increasing openness of city data, advanced digital connectivity, and ensuring accessibility to digital city services for disabled and elderly people.
These policies will contribute to the existing work of the council's Smart Belfast Programme and underpin the city's plans to invest in a Belfast Smart District where businesses, academia and public sector can collaborate to develop next generation urban services in areas such as mobility, health, energy and tourism.
Lord Mayor of Belfast, Alderman Frank McCoubrey said: "This opportunity to collaborate as a G20 Global Smart Cities pioneer city on a new roadmap for safely adopting new technology is very welcome indeed as we work to develop a Belfast Smart District and to weave digital innovation into every part of our economy. We'll be exploiting new technologies and data to tackle city challenges in areas such as health and mobility to improve our citizens' quality of life – and we must ensure that this is done ethically and in a way that prioritises transparency, privacy, equity and inclusion.
"Being part of the G20 Global Smart Cities Alliance on Technology Governance means that each of the partner cities will benefit from expert, tailored insights and policy tools and this collaborative approach will allow us to make swift progress in how we use technology to deliver benefits to all of our citizens."
Jeff Merritt, Head of the Internet of Things and Urban Transformation, World Economic Forum commented: "City governments are on the frontline of a global crisis and need to be able to act quickly and decisively to curtail this pandemic and set course for their economic recovery. Technology is an essential tool in this fight, but governments cannot risk falling into the usual traps related to privacy, security and vendor lock-in. That's where the G20 Global Smart Cities Alliance can help. Our new policy roadmap will guide cities with practical policies for these issues, and our Pioneer Cities are leading the way for cities everywhere to get started."
Source: Belfast City Council