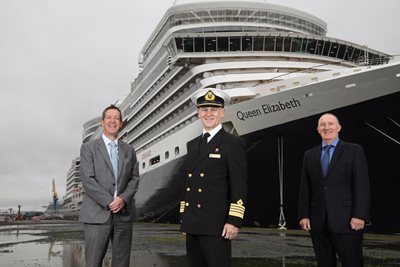 Cruise Belfast, the partnership between Belfast Harbour and Visit Belfast, has welcomed the 1,000th cruise ship call to Belfast.
Cruise tourism to the city restarted in June this year, with domestic, UK-only cruise itineraries and, to date, the arrival of MS Queen Elizabeth is the 66th cruise call to Belfast this year. The MS Queen Elizabeth, which is Cunard's newest luxury ocean liner, first visited Belfast in 2016 and this will be her sixth call to Belfast Harbour.
The celebrated arrival of the 'Berlin', the first cruise ship to arrive into Belfast in 1996, marked the start of what has been a huge success story for tourism in Northern Ireland, with cruise calls growing year on year, welcoming an incredible 1.7m visitors in the 25 year period.
2019 was a record year for cruise calls, with 146 vessels bringing 285,000 visitors to Northern Ireland, before cruise operations temporarily ceased due to the coronavirus pandemic.
Michael Robinson Port Director, Belfast Harbour said: "The development of Belfast and the wider region as a cruise destination has been a major success story for Northern Ireland's tourism sector and has involved a number of key partners working together. As the economy recovers from the pandemic we have been delighted to start welcoming cruise ships back to the city and we look forward to the number of calls increasing again next year.
"Celebrating the arrival of our 1000th cruise call to Belfast Harbour is a milestone event, not least for all of the partners who work closely together to sustain and grow local cruise tourism. As hospitality and tourism rebuild after an exceptionally challenging period, I have no doubt that those cruise visitors arriving on today's 1000th vessel will have received Belfast's customary warm welcome."
Source: Belfast Harbour