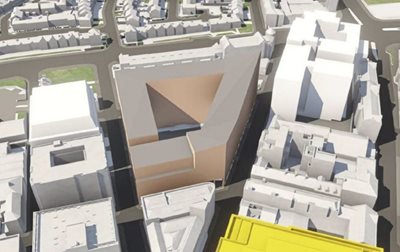 Plans have been submitted for one of the largest student accommodation projects in Belfast city centre to date.
Mandeville Developments NI have proposed a purpose built managed student accommodation (PBMSA) scheme with 862 units close to Ulster University's new campus on York Street.
The company had indicated in February that it intended developing 790 units on the site between Library Street, Little Donegal Street and Union Street.
But the application lodged with Belfast City Council in recent days proposes 862 units.
The largest student scheme approved to date in Belfast is currently under development on Nelson Street, close to the Westlink on slip.
The 774-unit block is part of the Student Roost portfolio in Belfast, which is being acquired by a joint venture involving Singapore's sovereign wealth fund and US property management group Greystar.
The long-delayed Ulster University campus is due to open to 15,000 students and staff this September.
The Mandeville Developments project is the latest major student scheme in the immediate surrounding area.
Work is currently ongoing across the road at Library Street, where around 400 student rooms are due to come on the market in September 2022 as part of the Alma Place scheme.
A £55m project involving the Lotus Group has also secured planning permission to build 724 student units on Donegall Street, opposite St Patrick's Church.
The Mandeville site, which has been used as a car park over the past number of years, was recently cleared of all remaining structures.
The company's proposals include an internal courtyard, as well as ground floor café and retail units.
Incorporated in November 2021, Mandeville Developments NI is owned by GK Capital Properties.
The Ascot-based entity, which was incorporated just 12 months ago, is owned by George and Michelle Katz. The latter is the managing director of London-based Q Design House.