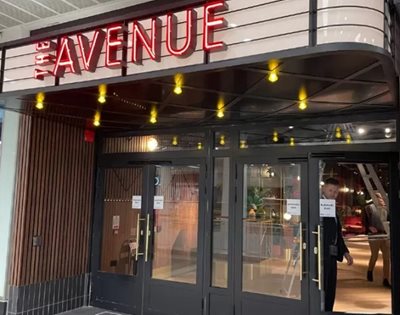 Part of the former Debenhams shop in CastleCourt is to open as a cinema more than 40 years after one of the same name closed on the same site.

More than £5m has been invested in The Avenue which will open on Friday.
It will have nine 60-seater screens, a kitchen and a bar for customers to buy food and drink to take to their seats.
The project is named after a cinema called The Avenue which opened in 1929 and was based on Royal Avenue until it closed in 1982.
About 50 jobs are being created by the Omniplex group which has said the in-cinema dining is a new venture for its business. Director Paul Anderson said:
This development really is like no other project we have undertaken. The Avenue will contribute towards the vitality, viability and vibrancy of the city centre, whilst also positively contributing to Belfast's daytime and night-time economy.
The closure of the Debenhams department store was a huge blow for CastleCourt so it is hoped that this shift towards experiences and leisure rather than retail will attract more people to the centre. CastleCourt centre manager Leona Barr said:
This is the next step in the regeneration of CastleCourt and the wider area, as well as a sign of the confidence our footfall affords our new tenants and their own ambitions.
The remainder of the former Debenhams unit will also have a leisure tenant although the identity of the occupant has yet to be announced.
Belfast Chamber chief executive Simon Hamilton said the city centre had had a difficult few years because of the COVID-19 pandemic. But he added that the effect of the new Ulster University campus opening nearby was already being felt. He said:
There was an encouraging end to 2022, there has been a good start to 2023 and no doubt that has been helped by the new Ulster University campus and 15,000 students studying there. We can see that in the age profile of the city centre and the footfall numbers increasing to around and beyond where they were pre-pandemic which bodes well for the city centre.
---
Source: BBC Northern Ireland