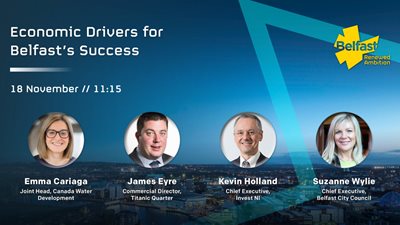 Belfast is a city which has been enjoying new attention from across the global investment community for some time, offering outstanding rates of return underpinned by a healthy business ecosystem and a standard of living considered one of the best in the world.
The city also has a long history of resilience, weathering social and economic upheaval with grit and determination.
That experience has left it primed to face the current challenges of coronavirus and Brexit head on and it is once again building on its pre-COVID success and plotting a path for further growth and prosperity. Some major new publicly-funded initiatives including the Belfast Region City Deal, and Weavers Cross – an unequalled opportunity to deliver 1.3 million sq.ft of office led mixed-use space just a few minutes walk from the city core with a multi-million pound publicly funded transport hub at its heart – will revive the city's unique attractiveness in 2021 and the decade ahead.
Its real estate sector plays a central part in that journey, flexing and innovating to meet the changing needs of business and society.
Speakers
Kevin Holland, Chief Executive, Invest NI
Suzanne Wylie, Chief Executive, Belfast City Council
James Eyre, Commercial Director, Titanic Quarter
Emma Cariaga, Belfast Innovation & Inclusive Growth Commissioner and Joint Head of Canada Water, British Land
Chair:
David Elliott, Senior Client Director, Lanyon Group
This session – part of the Renewed Ambition series of events – focuses on the city's economic journey in a post-pandemic environment, asking how each investment pillar will play its part in rebooting Belfast's successful future. How can we build back better and adapt to meet the changed environment? How do we nurture the growing desire for city centre living, the most significant opportunity in this city for investors?