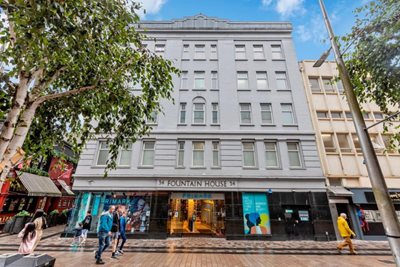 A historic building in Belfast city centre which served as a temporary home of Primark has officially gone back on the rental market.
Fountain House is advertised as "a retail opportunity in a prime shopping area" in the heart of the city.
The four-storey building, designed by Young and Mackenzie, has been occupied by Primark since the devastating Bank Buildings fire in 2018.
But now the retailer is back in its original iconic location, Fountain House is lying empty.
Paul Wilson from Savills Northern Ireland said there's already been significant interest in the unit.
"This is an excellent opportunity for a substantial retailer to get a foothold in Belfast's prime shopping district," he said.
"Strategically located, Fountain House offers multi-level trading with the benefit of twin escalators linking each floor and a good quality inherent fit out having been refitted by Primark in 2019.
"We are already pleased by the level of interest which has been stirred by the recent announcement of the planned reopening of Primark's Bank Buildings.
"This activity together with other key retailers opening in the city centre as well as Ulster University opening its eagerly awaited city centre campus is a huge boost to Belfast city centre and its economic outlook."
Source: Belfast Telegraph (link opens in new window)