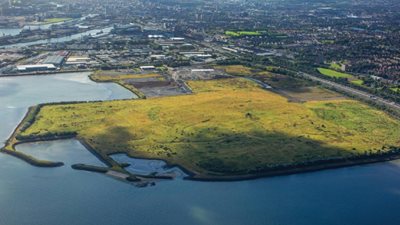 Plans to create a major £93m mixed-use scheme with leisure and business space at North Foreshore of Belfast Lough – known as Giant's Park – have taken a step forward.
A Proposal of Application Notice (PAN) has been lodged with Belfast City Council by Giants Park Belfast Ltd (GBPL), paving the way for the submission of a formal planning application.
GBPL was selected as the preferred developer for a 250-acre parcel of land at North Foreshore in 2018.
Infrastructure works totalling £9.5m have already been completed at Giant's Park, including the installation of roads and access off Dargan Road.
The estimated floorspace of the proposed development is more than one million sq ft.
According to stakeholders engagement strategy document prepared by Carlin Planning, phase one would comprise a hotel, fast food outlets and a petrol station.
The second phase would create entertainment and leisure space, including Giants Adventure Park and an Equestrian Centre of Excellence.
Phase three is a research and development park offering 400,000 sq ft of business space.
According to the PAN, three public events outlining the proposals for the site are set to take place in February, March and April 2021. A dedicated website is also set to go live on 1 February.
The wider 340-acre Giant's Park site is already home to Belfast Harbour Studios, which opened at the site in 2017.
In February 2020, Belfast Harbour submitted a planning application for an expansion of its facilities as part of a £45m investment.
Source: Insider