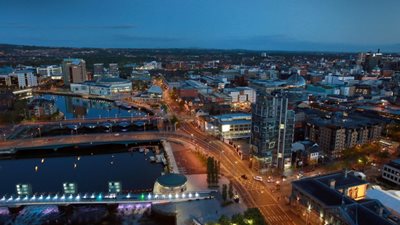 Belfast is primed to reach net zero carbon emission aims by honing its investment proposal for global and local investors, embedding sustainability into every business decision and by working in tandem with all other regions of Northern Ireland.
That was the message from the latest Renewed Ambition event which heard from some of the world's leading sustainability thought leaders who praised the city for launching its ambitious Climate Plan and said it is ideally placed to become an example of best practice in the global drive towards net zero.
Fermanagh native Alice Charles – the Lead for Cities, Infrastructure & Urban Services at the World Economic Forum in Geneva – said Belfast can take its lead from others, such as Copenhagen, which is further along the path to net zero by embracing an integrated approach focused building sustainable practises into economic growth plans and by delivering efficiency, clean electrification, smart digital technology, and efficient buildings and infrastructure, along with a circular economy approach to water, waste and materials.
She said there is plentiful available funding for projects which reduce carbon emissions but cities such as Belfast need to focus on creating investable projects.
"Funds say they have lots of money for investment in carbon reduction but there aren't enough bankable projects. Cities which have been successful on their journey to decarbonisation have put capacity into their system to create projects with the risk profile and structure to attract investors."
Nick Robins, Professor in Practice – Sustainable Finance, London School of Economics' Grantham Research Institute on Climate Change and the Environment, agreed, saying that the net zero economy requires a significant scale up in investments, growing five-fold this decade, as per a recent report for the UK's Climate Change Committee.
"The prize is huge: an investment-led recovery which will yield real benefits in terms of economic development and social progress, for example, by cutting spending on fossil fuel imports and channelling capital into local infrastructure and people. But it needs every decision to be made with net zero in mind and linked to social impact; that's what investors are looking for. Every financial institution needs a net zero plan and needs to be thinking about it as a core focus. Belfast has huge potential to embed this at the core of its climate and economic planning to mobilise investment."
He added that the city doesn't necessarily need to look far for funding of projects based around net zero carbon emissions.
"Cities don't always need to focus on attracting capital from outside. On average in the UK, there is £4 billion of investable wealth per 100,000 people, and COVID means we have unprecedented levels of savings. So it's worth exploring mechanisms to tap those savings, such as the new generation of local authority bonds that's emerging. Locally rooted financial institutions can play a key role in making the links between these savings and investable projects whether in buildings, transport, industry or nature," he said.
Russell Smyth, Partner at KPMG in Northern Ireland and Head of KPMG's Sustainable Futures, said a national energy strategy for Northern Ireland would "provide wider support to Belfast's own net zero strategy and provide citizens and businesses with clarity on expectations and policy direction". He also said there are a number of priorities areas to reduce carbon emissions.
"The most obvious priority is in domestic housing where 39% of Belfast's carbon emissions originate. Reducing that by moving away from the likes of oil central heating doesn't require technical innovation and be quickly rolled on a cost neutral basis.
"The transport sector represents another priority area, where Northern Ireland's historic reliance on cars presents an opportunity for electrification and greater use of public transport. An active programme of education for business leaders on the threats and opportunities from climate change should also be progressed, as this is a topic which has quickly climbed up the agenda to become the number priority as our recent Global CEO report highlighted."
Dr Iain Percy, Chief Executive, Artemis Technologies, said Belfast already holds a draw for businesses such as his which are focused on producing green technologies. Artemis Technologies provides engineering services to the maritime industry, and chose Belfast as its base from a list of global possibilities, to develop and manufacture transformative zero emission high-speed ferries.
"The real reason we came here was collaboration and consortium. Here I found industry, academia and council all wanting to work together, wanting to find solutions in a way which is unique compared to other cities. I've lived in many cities and Belfast was the best I've found, the most 'can-do attitude' and the most open door.
"We have an opportunity to decarbonise Belfast and help showcase the city to the world and that aim can be reached through the kind of collaboration we have found. It is also building key skills in the net carbon economy with two world-class universities and the likes of Belfast Met, which we work with, developing skills in electrification and lightweight carbon manufacturing."
Event chair Grainia Long, Commissioner for Resilience at Belfast City Council, noted that the city's new Climate Plan aims to integrate economic and climate strategy.
"The plan aims to achieve this through the delivery of a number of transformational projects which have been designed in partnership between key stakeholders across the city. A core feature of this work has been the development of a Net Zero Emissions Roadmap for the city which prioritises buildings and transport in the city's decarbonisation pathway," she said.