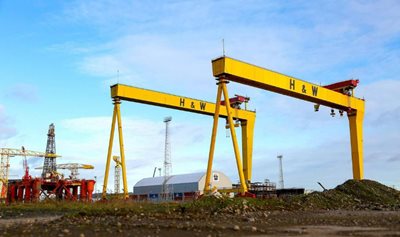 Shipyard Harland & Wolff in Belfast has won a contract of nearly £10m to build barges for a London customer.
The announcement came as two aerospace firms which suffered heavy losses following the pandemic also announced good news.
Harland & Wolff will fabricate 12 barges in its second contract with Riverside Energy Park, which is part of the Cory Group of businesses.
H&W last month announced it had won a deal to fabricate 11 barges for Cory Group. The latest contract means it will fabricate 23 in total.
The barges will be used to transport waste on the River Thames, and is subject to Cory finalising its finances for the Riverside 2 development, which will include a new energy from waste (EFW) facility. The fabrication will take place at H&W in east Belfast.
The £9.6m deal is the latest coup for H&W, which last week announced a £55m contract to regenerate a former Royal Navy mine-hunting vessel. Work on that vessel will be carried out by H&W at its Devon shipyard, Appledore.
H&W said it expected to receive payment for its work on the barges next year, boosting projected revenues for the year at £40m.
The contract wins follow InfraStrata plc's dramatic rescue of H&W from administration three years ago. Infrastrata was subsequently renamed H&W.
Group chief executive John Wood said: "We are pleased that Cory has once again chosen Harland & Wolff to fabricate these new barges. Fabrication facilities require a constant stream of work in order to create economies of scale and derive operational efficiencies.
"We have set up a semi-automated production line for the first Cory contract and with the award of the second contract, we will be able to drive through further efficiencies in the fabrication process."
DUP East Belfast MP Gavin Robinson welcomed the contract, saying: "This is another step forward for the Harland and Wolff plant. Cory have agreed a further contract worth £9.5m with H&W Belfast.
"Work is due to commence on the initial contract signed in June 2022, which will oversee the fabrication of 23 barges which will be used to transport recyclable and non-recyclable waste on the River Thames.
"It follows on from the recent award of a £55m defence contract to regenerate an ex-Navy mine-hunter and the recent cruise liner contract from Cunard & P&O.
"This is a sign of confidence in the H&W's ability to fulfil these contracts and is continued positive news for the Belfast-based workforce."