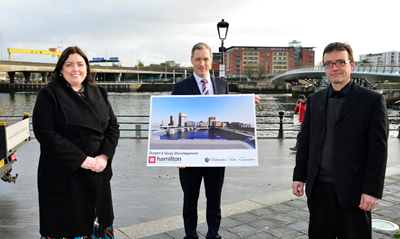 Communities Minister Deirdre Hargey has launched a consultation on the £150m future development of the Queen's Quay area of Belfast's waterfront.
Situated on the eastern bank of the River Lagan this prominent site provides a key connection between the city centre and other developments such as the SSE Arena and Titanic Quarter, and proposed schemes at Sirocco Quay and Belfast Quays.
Minister Hargey said:
"This consultation focuses on the exciting £150m major redevelopment of the prime waterfront site at Queen's Quay in Belfast. The blueprint for the area maps out how this significant site, located at one of most strategic gateways for the city centre, will be regenerated both socially and economically in the years ahead.
"The project will reinvigorate the eastern side of the city centre with new housing and key commercial space to an area close to landmark developments such as the SSE Arena, Titanic Quarter and the Obel Tower.
"The redevelopment of Queen's Quay will have an important role to play in helping to improve access for communities in east Belfast to the city centre and to become a high quality and shared space for all with a lasting legacy."
The Department's online public consultation exhibit on the proposals, supported by virtual consultation clinics, will run on their website from 7th December until 31st January 2022.
Source: Department for Communities