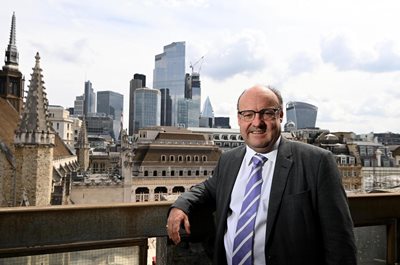 London, Belfast and Dublin are a "golden triangle" of cities which are driving technology, innovation and sustainability, the Lord Mayor of the City of London has said.
Nicolas Lyons was speaking at a dinner hosted by The British Irish Chamber of Commerce in Belfast.
John McGrane, director general of the Chamber, said more collaboration between the City of London's financial services sector, and finalising the NI Protocol, would be central to driving the economy forward.
Mr Hayward said: "Northern Ireland remains a top destination for financial services firms. The growing number of global businesses expanding into the region is evidence of that.
"From banking and green tech to specialisms in regtech and compliance; Northern Ireland is a hotbed for innovation and investment.
"I look forward to working with British Irish Chambers of Commerce and other key partners, to make this region and the entire UK a more competitive international centre for financial and professional services."
Mr Hayward and Mr Lyons described Northern Ireland as "one of the largest financial and professional services firm hubs in the UK". In 2019, the sector contributed £2.4bn to the economy and employs over 35,000 people.
Mr Lyons said: "Northern Ireland is a key part of the UK's global success story in financial and professional services. This sector contributes billions to the economy and employs thousands.
"Therefore, if we're to truly to go for growth we will need to harness the potential of this sector, and support firms to scale-up and compete globally. This in turn will unlock vital investment in infrastructure, drive our competitiveness and help us to tackle the ongoing climate challenge."
Source: Belfast Telegraph (link opens in new window)