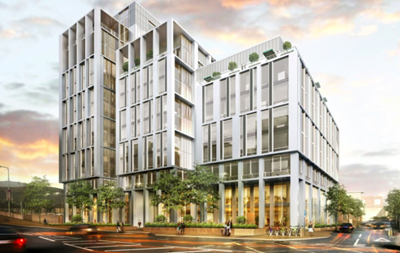 A proposal for a major office development next to the Westlink in Belfast has been given planning approval.
Ossian Holdings' proposal includes a three-tiered structure ranging from nine to 14 storeys on Grosvenor Road.
The company said the 226,800 sq ft of grade A office space could eventually house up to 2,500 workers on the site next to the proposed Belfast Transport Hub.
It's not the first office-based proposal on the site. Similar projects have been mooted since 2005, with two previous office schemes granted planning permission in 2011 and 2015.
Both applications have now expired.
The latest proposal, if it proceeds to development, would see a two storey plumbing shop on the site demolished.
Ossian Holdings, headed by developer Robert Jebb, said the 'One Grosvenor Gate' project could involve up to 115 construction roles.
"It will be a landmark city gateway building, strategically located next to the brand-new Belfast Transport Hub at Weavers Cross, with unrivalled transport link," he said.
"One Grosvenor Gate benefits from a unique, developer driven full planning approval for either a single 226,800 sq ft building or two of 165,000 sq ft and 50,000 sq ft.
The project has been designed by Todd Architects. Director Peter Minnis, said the 'gateway' structure comprises a "distinctive, elegant, stepped form".
"It will become an immediately identifiable landmark on Belfast's skyline," he said.
Portbannis has been appointed asset manager for the development, with Lambert Smith Hampton appointed as leasing agent.
Source: Irish News