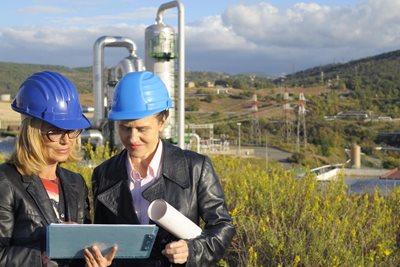 Public and private sector projects are ploughing millions of pounds into forms of renewable energy in Northern Ireland.
The Department for the Economy (DfE) has announced a £3m study on the potential for geothermal energy here in Northern Ireland.
And Belfast energy management firm Everun has announced a multi-million-pound investment to double its workforce.
It wants to add 32 jobs, paying an average of £45,000, while tripling turnover by the end of 2024 as it diversifies into new markets.
The business provides services in solar and wind power, electric vehicle (EV) charging systems and smart motor systems.
But the exploration of geothermal energy, which uses the heat generated and stored in the earth as an energy source, is a new direction for the Department for the Economy (DfE) in Northern Ireland.
It wants to see if Northern Ireland's geothermal energy can support its pursuit of net zero carbon targets by 2050.
Project GeoEnergy NI will examine both shallow and deep geothermal at the Stormont Estate, Belfast and College of Agriculture, Food and Rural Enterprise, Greenmount Campus, Antrim.