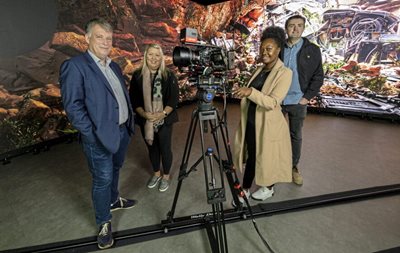 Movie and screen productions filmed in Northern Ireland have pumped £330 million directly into the region's economy since 2018, new figures show.
And a new four-year strategy from Northern Ireland Screen entitled Stories, Skills and Sustainability is targeting increasing that to £430 million by 2026.
The strategy, released at an event in the Waterfront Hall, has also set out a number of other commitments, including moving Nerve Belfast to W5 and more than doubling NI Screen's skills budget to £4m a year.
It also pledges to continue short film funding, script development funding and New Talent Focus; expand NI Screen's partnership with the BBC including the delivery of the Creative Industries New Entrant (CINE) programme which creates new entrant opportunities for those most socially marginalised including the disabled, ethnic minorities and those from the lowest socio-economic groups; and continue Into Film's ScreenWorks work experience programme.
Despite pandemic-related challenges, the combined budgets for productions supported by NI Screen during its 'Opening Doors Phase II' 2018-22 strategy exceeded a billion pounds, with a third of that staying in the local economy.
At yesterday's new strategy event launch, NI Screen celebrated the success of the industry over the last four years, reflecting on massive hits like Lisa McGee's Derry Girls, Kenneth Branagh's Oscar for Belfast, record audiences for Line of Duty and Bloodlands, and the upcoming release of Netflix's The School for Good and Evil.
It also highlighted the great strides made within the games cluster in the north with Soft Leaf Studios, Level 91 Entertainment and Bellular Studios showcasing their games to the large screen industry audience.
NI Screen chief executive Richard Williams said: "Our new strategy shares our ambition for the future of the screen industry in Northern Ireland.
"While we recognise that there is considerable market turbulence right now and that there are big challenges ahead, we're confident that there will still be sufficient opportunities for the industry to continue to grow and we will do what we can to assist with these challenges.
"But we must keep chasing the opportunities and upskilling our workforce because there are many more stories that need to be told."
He extended gratitude to the Departments for Economy and Communities for their continued support (£4.8m has been set aside to enable the first year of the strategy to be delivered in full) as the region endeavours to become the strongest screen industry in the UK and Ireland outside London.
Speaking ahead of the launch, economy minister Gordon Lyons said: "I've visited some of the productions supported by Northern Ireland Screen and have seen at first hand the impact that these investments have.
"The scale of the largest productions is really something that you cannot fully appreciate until you see 'behind the camera'. These productions provide highly skilled job opportunities, placements to develop our growing screen workforce, and establish significant supply chains that all contribute to stronger economic activity."
Source: Irish News