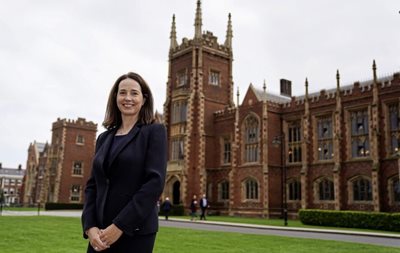 Northern Ireland has the potential to become a Singapore-style international investment hub, a Silicon Valley tech chief executive has predicted.
Sarah Friar, who leads the neighbourhood-based social networking platform Nextdoor, said the dual market access afforded by post-Brexit trading arrangements makes the region an "incredibly appealing" location for multinational companies to set up joint UK/European bases.
Ms Friar, 50, is originally from the village of Sion Mills in Co Tyrone but moved abroad 25 years ago to pursue a successful entrepreneurial career in finance and business.
"What I see as a business person is I'm always looking for places where I can get access to big markets to sell things to, I have to drive revenue," the San Francisco-based executive said.
"The UK is a huge market of 65 million people who buy very similarly to the US.
"But Europe is an even bigger market, it's bigger than the US, and so being able to have feet in both places is an incredible opportunity."
She added: "I was trying to think is there another world example. Singapore keeps springing to mind for me - of a very small physical location that became a gateway to both Asia but also back to the West that really played its cards right.
"Northern Ireland is very different from Singapore on many fronts, but Northern Ireland I think could be a small physical footprint that actually could punch a lot bigger than its weight."
Under the terms of Brexit's Northern Ireland Protocol, companies in the region can sell freely within the UK internal market and also into the EU single market.
However, the protocol also introduced economic barriers on the movement of goods being sold into Northern Ireland from Britain.
That provision is deeply unpopular with unionists and the DUP has collapsed powersharing at Stormont in protest.
The recent Windsor Framework struck by London and Brussels sought to reduce the red tape on goods entering Northern Ireland from the rest of the UK while still maintaining the dual market access.
The DUP has insisted the new accord does not go far enough to address its concerns around sovereignty and the application of EU law in Northern Ireland and the party is maintaining its blockade of Stormont until it receives further legal assurances from the UK Government.
Ms Friar said the ongoing absence of political stability in the region would be a negative consideration for potential investors.
"It's definitely a consideration," she said.
"When you're the CEO of a company, you're always weighing up the risk/return.
"Volatility is not good for business, whether it's economic instability, whether it's regulatory instability or political instability.
"So, everything that we can do - and I say 'we' because I still feel very Northern Irish - to lower the instability quotient can only be good for business and to get business to come here and hear brand Northern Ireland at its best."
Ms Friar was back in Northern Ireland last week to speak at a major conference at Queen's University in Belfast marking the 25th anniversary of the Good Friday peace agreement.