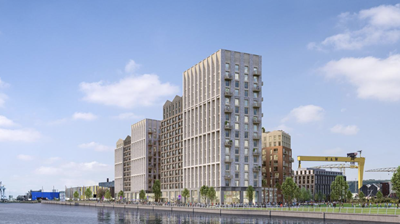 Belfast City Council's Planning Committee has approved the largest build-to-rent development to date in the city – a £117m near-800-strong apartment complex across three blocks in the Titanic Quarter.
The 'Loft Lines' developers are promising 20% of the 778 apartments will be housing association-managed, with the rest marketed to investors.
Build-to-rent, or BTR, is a growing sector of the housing market across the UK and Ireland by which investors seeking long-term return from the rents on properties buy pieces, or shares, of the development, which is managed by a third party.
Designed by TODD Architects, the development on Queen's Island will comprise one-, two- and three-bed and studio apartments. It will also include a riverfront promenade and a one-acre park. Work is due to begin summer 2022, with an estimated August 2025 completion date.
Lacuna Developments and Watkin Jones Group PLC, which has properties under management for investors across the islands, are the lead developers, with support from Titanic Quarter Limited and Belfast Harbour.
Anthony Best, Managing Director of Lacuna Developments, said: "Belfast City Council's decision to approve the Loft Lines plans is testament to a shared vision by all parties to drive Belfast forward by delivering city-centric homes that give a welcome boost to Belfast's economy in the long-term.
"The partnership approach with the council on Loft Lines is a huge part of this successful outcome and we look forward to continuing to work with our key stakeholders, Belfast Harbour and Titanic Quarter Limited, to see these exciting plans move forward later this year.
"This is an excellent outcome for Belfast, creating new homes, open spaces and businesses that will accelerate its development as a thriving 24-hour city to rival the best in the world," according to Alex Pease, Chief Investment Officer at the Watkin Jones Group.
"Transforming this brownfield site into a thriving place will act as a catalyst for wider regeneration, and we're very pleased to continue investing to support the people of Belfast's ambitions.
"Our focus is on creating truly sustainable places that add value for the wider community for decades, so we've brought our skills as a developer of affordable housing to increase the number of affordable homes, supporting the Loft Lines' future as a balanced community.
"The Loft Lines shows the potential of institutional investment to bring forward places with long-term value for the people who live in and around them, and we anticipate seeing Belfast as a prime investment destination grow as this scheme progresses."
The developers said they are expecting a local contractor to be appointed to build the complex.
"The approval of the Loft Lines proposal marks an exciting new chapter for Titanic Quarter as it continues to grow as a thriving place to live, work, visit and stay," said James Eyre, Commercial Director at Titanic Quarter.
Joe O'Neill, Chief Executive of Belfast Harbour, said: "We are delighted with the council's decision to grant planning permission to build this new residential development, delivering on the potential of this iconic waterfront location.
"The green light given will no doubt set a precedent for high-quality city homes and public realm and help attract future inward investment to Belfast."