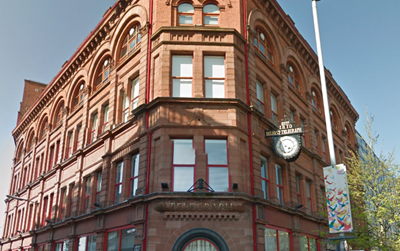 A car park which formerly belonged to the Belfast Telegraph is the latest site marked out for a massive block of student flats in Belfast's Cathedral Quarter.
Mandeville Developments NI, led by Colin Donaldson, has submitted a proposal of application notice to Belfast City Council, kick-starting a 12-week public consultation process.
The company has not revealed the amount it intends to spend on the project or the number of storeys. But at 790 student beds, it is larger in scale than a 724-bed project at nearby Donegall Street, said to represent a £55m investment by LDS Devco and Lotus Property.
That project has already secured planning permission.
The site, at the junction of Little Donegall Street, Library Street and Union street, belonged to the Belfast Telegraph until 2013 and had been used as its staff car park.
It was sold to Kevin McKay of Belfast-based developer Benmore Group.
It's understood Benmore Group sold it on to Mandeville Developments in December.
It's close to the new Ulster University campus, which is due to welcome 15,000 students and staff in September, and behind the former Belfast Telegraph building.
Mr Donaldson said: "We are delighted to be supporting the growth of student accommodation in Belfast.
"Throughout the pandemic we have seen the high demand and clear need for more managed student residences, as students from both universities have struggled to find appropriate accommodation.
"With the completion of the Belfast campus for Ulster University, it's expected that an even greater proportion of students will choose to live in the city centre close to the campus.
"Our proposal for circa 790 new high-end beds demonstrates our commitment to support the regeneration of under-utilised spaces in Belfast, contributing to the growth of the city centre population envisaged in the Belfast Agenda.
"By providing the beds needed we can ensure that this city can continue to alleviate local demand and attract students from around the globe."
The new building will be designed by Like Architects with project managers WT Partnership.
A digital and remote community consultation, led by planning and development consultants Turley, will take place early next month.
McAleer & Rushe and Belfast City Council, which own the old Belfast Telegraph building, have planning permission to convert it into 230,000 sq ft of office space to be known as The Sixth.
That's a reference to the sales cry from street sellers of the newspaper's sixth edition. The newspaper moved to new premises at Clarendon Road in 2016.
Source: Belfast Telegraph