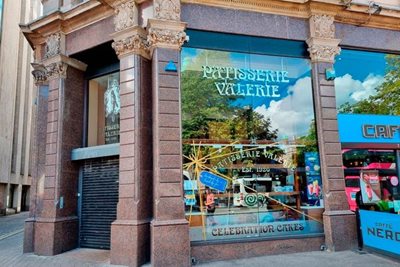 Sandwich chain Pret A Manger will open its first venue here in a Belfast city centre spot formerly occupied by a rival, Belfast Telegraph can reveal.
The company, which has today reported first-half revenues of £429.9m, will open in the former Patisserie Valerie unit next to Danske Bank in Donegall Square West. It has been vacant since Patisserie Valerie shut its three Belfast units last year.
Pret A Manger, which already has two units in Dublin, announced its half-year results on Tuesday, with revenues up 20.2% on a year ago.
In 2022, the business announced plans to open branches across the island of Ireland, with the aim of having 20 units over the next decade.
Franchisees Ray McNamara and Gerard Loughran set up a Northern Ireland-registered company, Carebrook Partnership (NI), in May.
The business has been asked for comment on its Belfast plans.
The London-based chain said it achieved record weekly revenues in May and June as its Club Pret subscription service proved popular with customers after expanding to include food as well as coffee.
Digital transactions also jumped 42% in the half year, up from 40% in December, the group said.
Pret increased the cost of the subscription service by 20% from June to £30 a month in the second price rise since the service launched in 2020.
It also widened the scheme, rebranded in April as Club Pret, to include a 10% discount on food and cold drinks, having initially launched in 2020 as a coffee-only subscription.
In figures for 2022 made available for the first time, Pret also revealed it posted an annual operating profit of £50.6m - returning to profitability for the first time since 2018.
The group cheered global expansion for helping improve its results, with the firm now operating more than 600 shops internationally across 15 countries and overseas sales now accounting for 18.9% of revenues.
It is aiming to expand this to more than 700 outlets globally by the end of this year.
The group said it was running ahead of growth targets announced in September 2021 to double the size of its business within five years, having entered seven new international markets since 2021.
Source: Belfast Telegraph