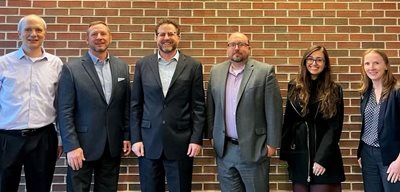 Queen's University Belfast has joined a cybersecurity research network set up and funded by the defence division of Rolls-Royce.
Launched in 2020, the Belfast university is the first UK institution to sign up to the project, joining Purdue University, in West Lafayette, Indiana, and Carnegie Mellon University, in Pittsburgh.
The defence side of the Rolls-Royce business includes jet engines and nuclear submarines.
In a statement, Queen's said its work will be focused on enhancing product security for Rolls-Royce's power and propulsion systems.
The research network is expected to conduct two to three Rolls-Royce funded projects with each school per year.
Professor Máire O'Neill, director at the Centre for Secure Information Technologies (CSIT) based at Queen's University, said: "CSIT brings a wealth of expertise to the group which will complement the research projects already underway at Carnegie Mellon University and Purdue University."
Queen's said the work will benefit Rolls-Royce's defence business, as well as the company's wider interests, including civil aerospace.
All three schools have research projects underway with some starting at the beginning of this year. In total, there are currently over ten separate projects that cover four broad topic areas.
Phil Townley, director future programmes, Rolls-Royce Defence said: "Across Rolls-Royce we are committed to staying ahead of emerging threats and our customers rely on us to defend them against those threats and remain cyber-resilient.
"To achieve this, we must remain vigilant and agile as we evolve our security systems. This research network will help to keep Rolls-Royce at the cutting-edge of product cybersecurity.
"We have already seen proven benefits from the organisations we have collaborated with in the US, and I am looking forward to extending this network within the UK and utilising the expertise that Queen's University will offer us."
Source: Queen's University, Belfast