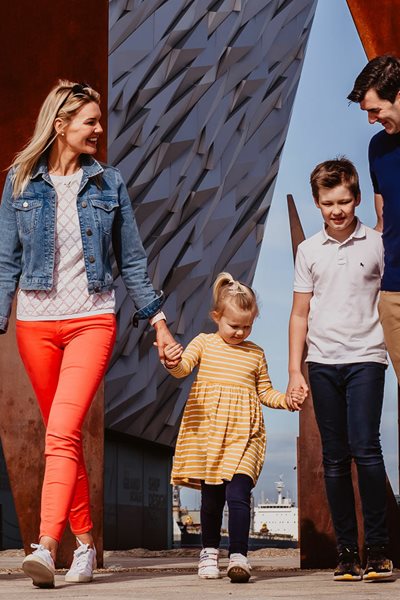 Belfast has been voted one of the UK's top city destinations by readers of Condé Nast Traveller in the magazine's annual Readers' Choice Awards.
More than 800,000 Condé Nast Traveller readers submitted responses rating their travel experiences across the globe to provide a full snapshot about the places they can't wait to return to next. The Readers' Choice Awards are the longest-running and most prestigious recognition of excellence in the travel industry. Belfast was placed 8th in the list of UK cities, ahead of popular destinations Bath and York.
Belfast's inclusion on the list is testament to the recovery of the city and region's tourism sector as restrictions have eased and businesses have reopened to visitors.
Visit Belfast Chief Executive Gerry Lennon welcomed the accolade, saying:
"Throughout lockdowns and travel restrictions, Visit Belfast continued to engage with audiences in our key markets to keep the city visible and relevant, so after a tough 18 months for the tourism industry here, we are heartened to see the city is still in the minds of potential visitors."
Tourism recovery will be a key component of Belfast and Northern Ireland's overall economic recovery, and it is already underway, with the gradual return of leisure, cruise and conference tourism to the city. Visit Belfast's ambitious three-year strategy aims to see its outputs return to 2019 levels by 2024.
"Visit Belfast remains committed to working with our partners and funders to support tourism recovery – and we are already seeing progress," Gerry continued. "Hotels are performing well – with occupancy in August 2021 just six percentage points lower than it was in the same month of 2019, and visitbelfast.com has received 30% more visits this year than in 2020. The return of cruise and conference tourism has further boosted visitor numbers and our ability to welcome people back to the city region.
"The Condé Nast Traveller Readers' Choice Awards are well-regarded as they showcase the destinations visitors are excited about – those that they want to go to. The endorsement that comes with this award shows that Belfast is well-placed to continue recovering from the devastating effects of the pandemic and look forward with cautious optimism."
Source: Visit Belfast