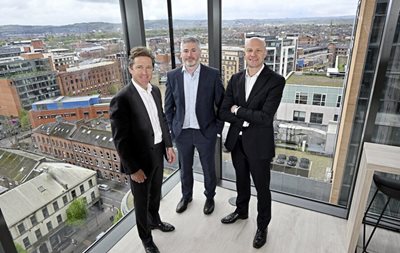 Belfast law firm Tughans has moved its headquarters to The Ewart on Belfast's Bedford Street, where it will occupy the 11th and 12th floors.
The relocation from its previous office in Victoria Street marks a period of growth and change for the firm, which celebrated 125 years in business in 2021, as it looks to recruit additional talent and foster new ways of working.
Designed by Ply Design and executed by specialist fit-out firm Somerville, the office space is open plan and purpose-built to promote collaboration. The move was project managed by Johnston Houston.
Tughans is one of the north's largest commercial law firms, providing specialist legal advice across all business sectors.
It was recently recognised as the most active law firm in Northern Ireland for the eighth consecutive year by the Experian MarketIQ M&A League Table.
Managing partner Patrick Brown said: "This marks a new era for Tughans. Having outgrown our offices in Victoria Street, we sought a new office that was appropriate for the forward thinking and innovative firm that we have become.
"With impeccable sustainability credentials and enviable views across the city, The Ewart was the perfect choice and will support our ESG targets. We're excited that we have now moved in and can start to make it our own."
David Jones, real estate partner at Tughans, added: "With an open plan lay-out, the new office will help to nurture a collaborative environment and foster new ways of working between teams in the firm.
"It is very much designed with our staff and our clients in mind to create a welcoming, comfortable yet professional atmosphere. With various private meeting and events spaces along with relaxed common areas, we look forward to welcoming clients to the building."