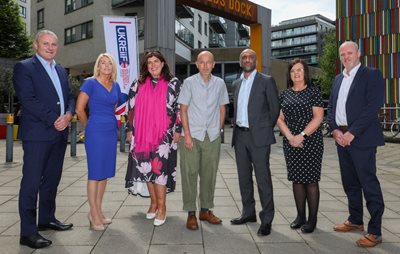 The Belfast region's world-class cleantech sector and strong talent pool will allow Wrightbus to flourish, the company's chief executive officer has said.
Speaking at UK Real Estate Investment & Infrastructure Forum (UKREiiF), Buta Atwal also said Northern Ireland's unique position in the wake of Brexit makes his and other companies in the region ideally positioned to trade across both the UK and EU.
Combined with a flourishing cleantech sector, which has the support of partner companies, local government and academia, he said the Belfast region has created an environment which will nurture innovation in the space and help companies like his become world leading.
Mr Atwal said: "It is no coincidence that Wrightbus is regarded as a leader in hydrogen bus technology. Since first entering passenger service in 2020, our StreetDeck Hydroliners have clocked up a million miles, preventing 1,700 tonnes of CO2 from entering the atmosphere on those bus journeys.
"We have been able to lead the field in hydrogen bus technology in large part as a result of our location in Ballymena. It has afforded us access to a world-class cleantech skills base, one which will be further enhanced by the Hydrogen Training Academy planned under the Belfast Region City Deal, and the i4C Innovation & Cleantech Centre.
"And, as our orders grow around the world, our unique position here in Northern Ireland, with a foot in both the UK and EU markets, offers us the chance grow exponentially."
Mr Atwal was speaking during the Belfast Region – A £1bn Decade of Opportunity session at the inaugural built environment conference held in Leeds. The session was organised by Renewed Ambition, a partnership focused on positioning Belfast and the wider city region to take advantage of the opportunity to drive residential and commercial real estate investment and support inclusive economic recovery.
Also speaking at the event was founder of HemingwayDesign, Wayne Hemingway, who said that the Belfast region has a wealth of untapped regeneration and tourism potential. He underscored the importance of regeneration in creating a region where people want to live, work in and visit, highlighting the Bangor Waterfront project and his vision to make it to Belfast what Brighton is to London.
Both Mr Atwal and Mr Hemingway also took part in two respective panel discussions, along with senior leaders from councils within the Belfast region, focusing on the significant potential for the cleantech and innovation sector and for tourism and regeneration.
The session also focused on the two major initiatives which will rubber stamp the Belfast region's potential; the Belfast Agenda with its target of attracting 66,000 people to live and work in the city and 31,600 homes by 2035 – and the £1 billion Belfast Region City Deal, which will deliver innovation and jobs for a new economic era.
John Walsh, Chief Executive of Belfast City Council, said: "We have come to UKREiiF with a very clear message: the Belfast region is primed for investment and offers a unique set of opportunities which are unmatched the world over. Through the £1 billion Belfast Region City Deal and the Belfast Agenda, we have set out the pathways for inclusive growth across all areas of our economy and are intent on creating the conditions for businesses to flourish.
"As a standalone opportunity, the Belfast region's offer is impressive. Combined with the support of initiatives, such as the Belfast Region City Deal and other funding opportunities, it offers a compelling investment proposition which has and will draw international attention."
UKREiiF was attended by senior leaders from global investment funds and property companies, UK public sector bodies, government and the third sector.
The event focuses on levelling up across the UK and in particular cultivating the development of greener, smarter, healthier places while driving inward investment; how the built environment can play its part in creating net zero UK; and facilitating shared learning across the real estate industry on how to embed social value within the private sector.
The Renewed Ambition partnership – including local government, occupiers, developers, the supply chain and more – will deliver a collaborative programme of activity to help ensure strong recovery and growth in Belfast and across the wider region by highlighting its compelling investment proposition globally. It is made up of the councils of Belfast, Antrim and Newtownabbey, Ards and North Down, Mid and East Antrim, Newry, Mourne and Down and Lisburn and Castlereagh City.
It aims to shape how the future of the city is reimagined and will act together to deliver that ambition in the months and years ahead.