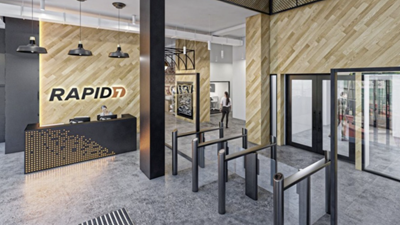 US Cyber-security firm Rapid7 has officially opened its new Belfast headquarters after recruiting around 80 new staff in the past 11 months.
The Massachusetts-based IT company announced a ten-year lease at Chichester House in March 2020, confirming its plans to double its workforce to around 400 people in Northern Ireland.
Rapid7 was due to open its 49,000 sq ft offices on Chichester Street in August, but the move was delayed, largely due to Covid-19 restrictions on its US personnel coming to Belfast.
The security analytics and automation specialist has now formally cut the ribbon.
In the 11 months since announcing the 10-year lease with Causeway Asset Management, Rapid7 has expanded its workforce in the north from 170 to around 250.
While the health regulations still advise that office-based employees should continue to work from home where possible, the lockdown restrictions are expected to be eased over the coming months.
Rapid7 said its new office had been altered to adhere to government guidelines and regulations around Covid-secure workspaces.
The US company said the new Chichester House office will allow it to realise its goal of doubling its headcount inside two years, providing new jobs in engineering, development and customer support.
The IT security company said it also plans to continue with an internship programme, working with the local universities to provide a pathway for budding security analysts and automation experts.
Rapid7's global real estate senior manager, Michael Keimig, said the Massachusetts company remains committed to expanding its base in Belfast and solidifying its position to service its European clients.
"Our focus on providing a safe, comfortable and engaging workspace for our employees is a long-term goal of ours," he said.
"We want this office to not only house our current employees, but also those we'll be bringing on as part of future expansion in the region. As such, we intentionally designed the layout of the office to include enough space for 400 employees."
Rapid7 said the new office will include a ground-floor café, 'genius bar', library, games room and maker space, featuring Lego, 3D printers and Raspberry Pis.
This story originally appeared in The Irish News.