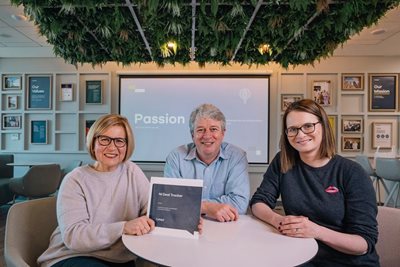 Innovation and growth stage companies in Northern Ireland welcomed record investment of £139m from venture capital (VC) last year, according to new research.
Small firms here will be hopeful confidence has been maintained among early-stage investors moving forward, after the UK and US Governments' rapid efforts to contain fallout from the Silicon Valley Bank collapse.
Well over two-thirds of the investment came from VC investors outside of Northern Ireland, which appears to be outperforming the UK trend. UK-wide VC investment was down 16 per cent year on year in 2022, according to Beauhurst.
Spanning 89 projects, Northern Ireland VC investment was up 29 per cent year on year in 2022, according to Belfast-based Catalyst's annual NI Deal Tracker report. Investment here has tripled over the past three years.
In 2021, £107m was invested across 68 deals, said the nonprofit, which has been tracking innovation investment in Northern Ireland since 2017.
The jump in deal value this year reflects an increase in the number of established Northern Ireland companies turning to venture capital investment to support their growth plans, it said.
The average amount invested in each deal was £1.6m, an increase of £100,000 on the average funding round recorded in 2021.
Catalyst's research identifies 20 deals in the £1m to £5m range, 10 deals valued at £5m-plus, and five deals worth more than £10m.
While around £40m was invested from Northern Ireland sources, 71 per cent of the total sum came from parties based outside of Northern Ireland.
Funds investing in NI companies included Google Ventures, Barclays, Clean Growth Fund, ExSight Ventures, Visionary Ventures and SignalFire.
Kieran Dalton, head of scaling at Catalyst, said:
"In light of a fall in venture capital investment in the UK market overall, the increase in venture capital investment into Northern Ireland companies is very welcome.

"When we analyse the underlying data, we can see the cause of this increase has been the emergence of a cluster of growth companies which are redefining the aspirations for innovation companies within NI.

"Raising venture capital investment is always a challenge, however, as more seed companies in NI continue to 'graduate' into growth and venture stages they can be confident that external investors are increasingly available to support their needs."
Steve Orr, chief executive of Catalyst, said:
"These figures show that Northern Ireland companies continue to attract increasing amounts of international investment, even at a time when venture capital activity globally has fallen.

"The rise is testament to the quality of founders, startups, scaleups and the strong local ecosystem that now exists here.

"Given the slowdown and ongoing pressures facing the venture capital market, which have been exacerbated in recent days by the uncertainty created by the rescue of the sector's major banking player, Silicon Valley Bank, it will become increasingly important for local startups that global investors are aware this is a region and an economy that has a strong track record of producing innovative companies with high growth potential."
---
Source: Belfast Telegraph