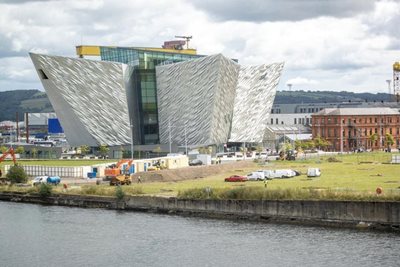 Preparatory construction work on a £175m housing scheme on the banks of the River Lagan has begun.
The Loft Lines in Belfast's Titanic Quarter will deliver 778 waterfront homes, along with sports and recreational spaces, gyms and cinema rooms.
It will comprise 627 build-to-rent units and 151 affordable homes across three buildings of between 11 and 17 storeys.
Amenities are to include shared courtyards, private balconies and shared roof terraces, while there will be space for a restaurant, coffee shop and crèche.
Lacuna Developments, Titanic Quarter Ltd and Belfast Harbour have teamed up with Welsh firm Watkin Jones Group for the development.
Construction workers and equipment arrived at the Queen's Island site in recent days to being initial groundwork.
Last month the developers announced they had reached a "forward funding" deal of £155m of the wider £175m cost of the project with L&G and Clanmil Housing Association.
Under forward funding deals, the investor takes control of a development when it is complete.
Announcing the deal in June, Alex Pease, chief investment officer at Watkin Jones Group, said: "We are delighted to have secured institutional investment from both L&G and Clanmil Housing Association for this landmark scheme in Belfast's iconic Titanic Quarter.
"This is further evidence of the attractive investment and operational fundamentals of both BTR [build-to-rent] as a sector and Belfast as a city and a good sign of capital markets reopening."
Anthony Best, managing director of Lacuna Developments, said the deal marked "another significant step forward for city-centre living in Belfast".
"For Lacuna to be involved in the first purpose-built student accommodation scheme in 2015 and now the first mixed-tenure housing scheme in the city centre is very pleasing and shows our company's commitment to Belfast, our home city," he added.
The Loft Lines will also include South Yard Square, a one-acre area that will feature a sports park for exercise classes and outdoor events.
According to planning documents submitted on behalf of the applicants, "the proposals describe a new, contemporary and sustainable residential development that is rooted in the qualities and history of the place and declares its future as an iconic waterfront neighbourhood".
It continues: "We want to express the three blocks as a cluster of urban objects around a new square. We believe each should have its own distinct qualities, derived from how it responds to its specific site and programmatic conditions, but should also feel related to its neighbours.
"Different but the same. This 'urban assembly' has the potential to rest confidently on a prime site within the city — a backdrop to the river. This will be arguably the first mixed-use, mixed-tenure residential development in this area of the city, providing much-needed homes for people of all ages and backgrounds."
It is understood the scheme will generate an estimated 310 full-time equivalent (FTE) construction jobs over three years.
"It is further estimated that non-residential uses at the proposed development will require a total of 80 gross direct FTE jobs on site to support commercial/community operations in the retail, professional services, health and care and hospitality sectors," planning documents state.
Source: Belfast Telegraph