Date: 10am - 10pm, Friday 17 September - Sunday 19 September
Venue: Writers' Square, Cathedral Quarter
---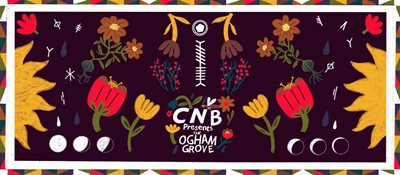 This year's Culture Night will be much smaller in scale and scope and will take the form of an on-site installation that people can drop into and enjoy over the course of the weekend, allowing organisers to focus on safety as well as making sure everyone has a great time.
The installation will be a vast structural, lighting and sound show - The Ogham Grove - that will fill the Cathedral Quarter's Writer's Square, with accompanying digital trail.
It will take the form of two monumental, immersive sculptures inspired by the ancient Celtic Ogham Tree Alphabet.
The Tree Alphabet will act as the primer for learning about the Ogham characters, their meanings, and their tree associations, while the Celtic Ogham Year Wheel signifies the links with our natural environment, living in harmony with it, and the awareness of our place in the universe, the lunar and solar cycles that drive the life on this planet of ours, and all of how life lives–in balance and together.
This year's Culture Night Belfast is supported by Belfast City Council, Arts Council for Northern Ireland, Tourism NI, Belfast Harbour Commissioners and Translink.
To keep up to date with all the CNB Presents The Ogham Grove updates go to culturenightbelfast.com (link opens in new window) or follow #CNB21 on social media.