Date: Various dates in October, November and December
Venue: Cathedral Gardens Active Travel Hub and Writers' Square
Category: Active Travel
---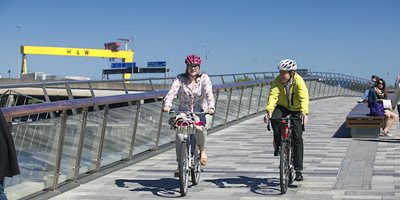 Join us at the Cathedral Gardens Active Travel Hub and take part in walking and cycling activities.
We opened an Active Travel Hub, in partnership with Sustrans (link opens in new window).
The Hub is housed in two refurbished shipping containers at Cathedral Gardens, beside the new Ulster University campus. Open on Monday, Wednesday and Friday from 10am to 4pm.
Check out our Active Travel events for October, November and December 2023. Don't forget to reserve your spot. These links open in a new window.
| Activity | Location | Date and time |
| --- | --- | --- |
| Cycling skills master class | Cathedral Gardens Active Travel Hub | 1 November 2023, 12.45pm to 1.45pm |
| Leisurely Laganside Ride | Cathedral Gardens Active Travel Hub | 5 November 2023, 10am to 12 noon |
| Maintenance Monday | Cathedral Gardens Active Travel Hub | 6 November 2023, 1pm to 2pm |
| E-Bike trial | Writers' Square, Cathedral Quarter | 7 November 2023, 12 noon to 3pm |
| Wednesday Wellness Walk | Cathedral Gardens Active Travel Hub | 8 November 2023, 12.45pm to 1.30pm |
| Open day | Cathedral Gardens Active Travel Hub | 15 November 2023, 12 noon to 3pm |
| Wednesday Wellness Walk | Cathedral Gardens Active Travel Hub | 15 November 2023, 12.45pm to 1.30pm |
| Leisurely Led Ride | Cathedral Gardens Active Travel Hub | 18 November 2023, 12 noon to 2pm |
| Wednesday Wellness Walk | Cathedral Gardens Active Travel Hub | 22 November 2023, 12.45pm to 1.30pm |
| Wednesday Evening Wander | Cathedral Gardens Active Travel Hub | 6 December 2023, 5pm to 6.30pm |