Date: 11 March to 4 September 2022
Venue: Various
Category: Arts and culture
---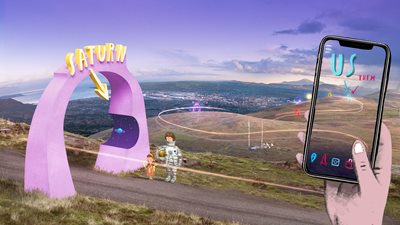 Look out for some unmissable events and unforgettable experiences as an exciting celebration of creativity comes to Belfast and beyond. Walk the solar system atop Divis and the Black Mountain with the Our Place in Space sculpture trail or take part in Dreamachine, an immersive experience exploring the limitless potential of the human mind.
These exciting projects and more are delivered by UNBOXED (link opens in new window), a once-in-a-lifetime celebration of creativity, taking place across England, Northern Ireland, Scotland, Wales and online from March to October 2022.
UNBOXED: Creativity in the UK is funded and supported by the four governments of the UK and is commissioned and delivered in partnership with Belfast City Council, Creative Wales and EventScotland.
Our Place in Space
Meteorite Exhibition

Where: Ulster Museum

When: 14 June to 11 September from 10am

Ever wanted to get up close with some of the most distant regions of our solar system?

A new exhibition at the Ulster Museum will give you that chance!
Dreamachine
Dreamachine

Where: Carlisle Memorial Church, Belfast

When: 25 July to 4 September 2022

Dreamachine is a powerful new immersive experience and wider project that explores the limitless potential of the human mind. Inspired by an extraordinary but little-known 1959 invention by Brion Gysin, the 21st Century Dreamachine will lead you through a unique environment of light and sound. What will you see? How will you feel? Only you will know because every journey through the Dreamachine will be created by your own brain and completely unique to you!
UNBOXED
Elsewhere in Northern Ireland

About Us

Kicking off the Northern Ireland UNBOXED activity is About Us in Derry~Londonderry on 15 March. The free open-air spectacular will combine live performances and multimedia installations. It features poems and Scratch animations by young people from across the UK, and celebrates the entire history of the universe from the Big Bang to the present day

StoryTrails

StoryTrails brings together augmented reality, new developments in 3D internet technology and the next generation of creative voices to shape one of the most ambitious living stories. StoryTrails is a deep dive into our collective history. This magical immersion in the lost and untold stories will be in Omagh this July.