Date: 6 Aug 2020 - 16 Aug 2020
Venue: East Belfast and online
---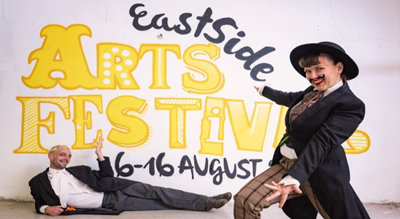 A programme of inspiring and creative events featuring music, theatre, literature, story-telling, visual art, talks and tours based on the theme, "Moments of Joy".
Some events will be held online for you to enjoy from the comfort of your own home. Live events will either be held outdoors, or in a small number of east Belfast venues where social-distancing can be maintained. Activities include:
Theatre moments
Kabosh Theatre Company - the King of East Belfast (Connswater Shopping Centre)
Amadan Theatre Company - The Old Curiosity Show (online)
The Travelling Cycle Circus along the Connswater Community Greenway
Heritage moments
socially-distanced cinematic treats at The Strand Arts Centre
launch of EastSide Lives Heritage Trail
virtual CS Lewis or Yardmen Tour
Music and audio moments
EastSide Sessions at the Portview Trade Centre with Gareth Dunlop, Edelle McMahon, Dani Larkin and Arborist
EastSide Electronics presented by The Night Institute at the Portview Trade Centre
online celebration of Van Morrison's 75th birthday with Stuart Bailie
Joshua Burnside online performance at Ballyhackamore Working Men's Club
Online Storytelling moments
Drag Queens reading favourite children's books
book extracts for children highlighting issues such as race or gender
online launch of author Jan Carson's Postcard Stories 2
Art moments
socially-distanced Street Art Walking Tours with Seedhead Arts
There will be a host of other outdoor and online events including yoga, photography, exhibitions and artists' talks, and Samba in the Park.
For the full festival programme and ticket information visit www.eastsidearts.net