Date: 20 November to 5 December
Venue: 49 - 51 Royal Avenue, Belfast city centre
Category: Christmas
---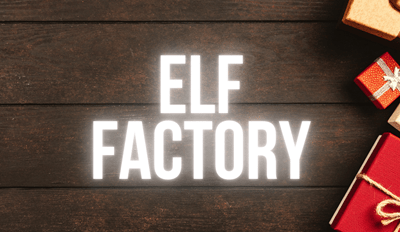 Join Big Telly Theatre Company this Christmas as we turn Belfast into 'Elf'ast with an interactive installation that puts you right at the centre of the action.
Christmas spirit is at an all-time low and Christmas Eve is fast approaching! Santa needs YOU to step up and save the day, in this miniature world full of tiny chutes and slides where magic is made and chaos is craic. Shrink down to elf size and join your fellow goblins in completing impossible and ridiculous tasks, resulting in lots of madness, mayhem and a very exasperated Mrs Claus! Become a magic maker this Christmas simply by being your best Elf.
Pop your head inside the factory and become part of an army of busy elves which you control using a mixture of puppet hands, grabbers and joysticks. All under the strict command of Mother Christmas and a chaotic Elf Supervisor. Recommended for anyone over the age of 3.
You must book a ticket. All child ticket holders must be accompanied by an adult ticket holder.
Tickets
Visit us
Wednesday to Friday, 3.30pm - 8.30pm,
Saturday, 11.30am - 7.30pm,
Sunday, 1pm - 5.30pm