Date: 7 October 2020 10am until 2pm
Venue: Online
Category: Arts and culture
---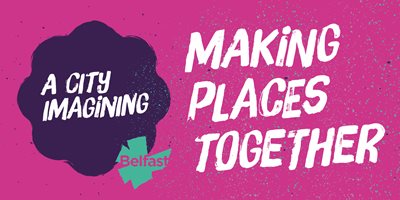 Join this online discussion on how we can bring our familiar spaces to life in a creative way.
The visual landscapes in our cities often become over-familiar and lose the element to delight and surprise. Cultural heritage and local stories can also get lost.
Reframing a cityscape as a gallery and connecting city geography and heritage through creative works can encourage new perspectives and discoveries.
As we emerge from lockdown, many of us are unsure of the routine journeys we used to take and the regular places we used to visit.
This online event is free but you need to register to attend. To register, go to Making places together (opens in new window). To read about other Making Places Together events, go to Culture projects.
Making Places Together, City as a Gallery event contributors
| Name | Biography |
| --- | --- |
| Anita Durst | Anita has been a star, a muse, and a patron of the avant-garde arts scene in New York City. She founded Chashama in 1995 to create a place for artists free from financial and subjective constraints. Anita has secured over one million square feet of space in New York City. |
| Hayley Ferber | Hayley supports Anita Durst in Chashama as Deputy Director. Hayley graduated from New York University and Rhode Island School of Design. Since graduating, she has been in leadership, curator and arts educator roles at schools and institutions in New York City. |
| Gemma Reid | Gemma is a freelance practitioner who believes in the power of heritage and arts to transform lives and build sustainable places. Gemma is part of the team currently reimagining the Belfast Entries through creative interpretation. |
| Graham Marshall | Graham studied landscape architecture and urban design. He was a founding director of Liverpool Vision. He's Expert Advisor to the High Streets Task Force. |
| Rhiannon Corcoran | Rhiannon is a professor of Psychology and Public Mental Health at the University of Liverpool. She leads on various research groups and programmes, including a household survey exploring the psychological and social impacts of COVID-19. |
| Ralf Alwani | Ralf's design interests lie in architecture and place-making that capitalises on local community assets and co-design to create public spaces that promote people's health and well-being. Ralf is an active fellow of the Royal Society of Arts. He has published pieces in journals on architecture and design, healthcare and mental health. |
| Kevin Murphy | As a consultant, Kevin has experience in creative civic and public engagement, fundraising for and delivering cultural initiatives, cultural advocacy, policy, idea generation and evaluation. |

Kevin Murphy is the event facilitator.