Date: 21 October 2020 10am until 11.30am
Venue: Online
---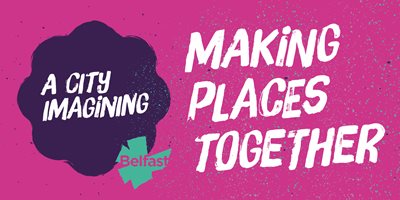 We invite you to hear and reflect on what has been shared during Belfast's four Making Places Together webinars.
We hope to build a civic cultural position on how we respond, rebuild and recover from the impact of the coronavirus (COVID-19) pandemic on our city.

We invite your input at this final webinar - at this time of economic, social, political and environmental disruption, listening and sharing is needed more than ever. Civic conversations can help us understand, challenge and influence the changes we see happening in our city, helping us to imagine what we want for Belfast's future.

The Making Places Together webinar series will have brought together local and international voices with a common thread: culture is key to the transformation and development of cities and we want to explore how can we ensure culture can influence and transform change in Belfast?

We are working towards a more participative approach through our city's community plan – The Belfast Agenda – and cultural strategy 'A City Imagining', which focuses on active citizenship and encourages co-design processes. We will seek to build on these conversations and work with you to achieve our city's ambitions, including our major year of cultural celebration in 2023. Come and join us, we are a city imagining.

The online event is free but you need to register to attend. To register, go to Making places together (opens in new window).