This page is more than a year old and may not contain the most up-to-date information.
Date: 20 Oct 2020
---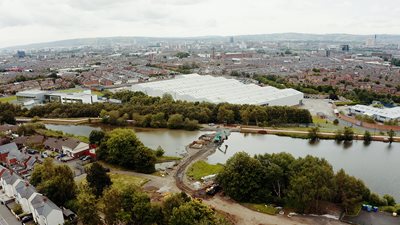 Details of a new £5.1 million EU-funded greenway to connect parks and open spaces along a 12 kilometre route in north and west Belfast have been announced.
Forth Meadow Community Greenway will create shared paths and cycle ways along a route starting at Clarendon Playing Fields and ending at the new Transport Hub in the city centre. Wayfinding and information signage, street furniture and public art will also be installed along the route, while key sites will be enhanced with landscaping and planting.
The project will be delivered by Belfast City Council thanks to funding from the EU's PEACE IV Programme, managed by the Special EU Programmes Body (SEUPB). Match-funding will be provided by the Executive Office in Northern Ireland and the Department of Rural and Community Development in Ireland. The redevelopment of Springfield Dam received additional funding from the Department for Communities.
Lord Mayor Alderman Frank McCoubrey, said: "Forth Meadow Community Greenway is a really exciting project that will help regenerate local neighbourhoods along its 12 kilometre route.
"Alongside the capital project which will be completed in 2022, an imaginative community activity and events programme will be delivered at sections along the new greenway, with the aim of bringing communities together and promoting the use of the shared space.
"By encouraging residents to make more use of facilities in neighbouring areas, the new greenway and activity programme will also encourage interaction between communities that have been divided for too long. This supports the Belfast Agenda, the city's community plan, which includes aims to regenerate neighbourhoods, improve community relations and create a welcoming, safe, fair and inclusive city for all."
First Minister Arlene Foster said: "This is an important project which will open up new spaces and new opportunities for local communities to connect and engage. I am proud that the Executive is supporting the people of North and West Belfast through the creation of the Forth Meadow Community Greenway.
"And I am delighted to know that the local community have been involved in developing the new £5.1m parks and cycle way, which will cover a 12 kilometre route. Their contribution has helped to make this an amazing resource.
"This is not just about sharing places but it is also about sharing experiences and joining together in events and activities. This will enable communities to foster good and positive relationships for the long-term. I look forward to seeing the project when it is completed."
The deputy First Minister Michelle O'Neill said: "In building a better and shared future, we need to find new ways to improve connectivity, facilitate mobility and open up our communities for the benefit of everyone. The Forth Meadow Community Greenway is an important project which will help to do just that by creating links and shared spaces across the city.

"The development of greenway infrastructure will also help to support a greener, healthier and more sustainable future for all our people.

"I'm delighted that The Executive Office is supporting this £5.1million initiative which will be transformative for communities in north and west Belfast. I encourage those communities to get behind the project and I look forward to seeing the development of these spaces and the benefits it will bring."
Joe O'Brien TD, Minister of State at the Department of Rural and Community Development, commented: "I want to congratulate Belfast City Council on the launch of the Forth Meadow Community Greenway project. Greenways provide not only a low-emission, efficient transport system but they also create healthier, more cohesive communities and improve the economy.
"The walkways and parks which form part of this project will create an environmentally friendly community space for young and old alike, and I hope will encourage and facilitate connections on a cross community basis. I am delighted that my Department is an Accountable Department for this funding which will be a major boost for the area and I know my Department will work with all parties to ensure delivery of this essential EU funded project."
Outlining the importance of the project Gina McIntyre, Chief Executive of the SEUPB, said: "Unfortunately many parts of Belfast still remain deeply divided, along sectarian lines, with little or no opportunity for people to mix with and learn from each other. Upon its completion the impressive, EU PEACE IV-funded, Forth Meadow Community Greenway will help to change this. It will provide opportunities to foster many positive and long-term relationships between people from all sections of the community. The shared space project will also facilitate many new, exciting cross-community events and activities that will help to create a more peaceful, tolerant and cohesive society."
For more information on Belfast's PEACE IV shared spaces capital projects, visit www.belfastcity.gov.uk/sharedspaces or for more about the Forth Meadow Community Greenway at www.belfastcity.gov.uk/forthmeadow