Date: 06 Aug 2020
Category: Culture and arts
---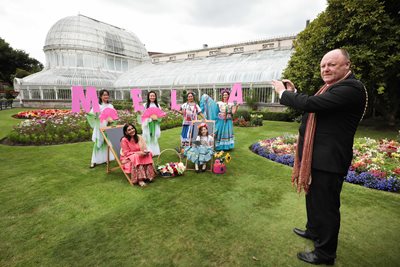 Northern Ireland's biggest celebration of cultural diversity, the Belfast Mela goes virtual for 2020 with a week-long series of more than 50 free events planned from Monday 24 August until Sunday 30 August on Belfast Mela website.
Highlights of this year's Mela at Home, sponsored by Sensata Technologies, include a wonderful line up of music, dance, food, art, theatre, discussion and wellbeing from around the world presented by local artists and performers living in Northern Ireland.
An engaging and interactive Mela at Home festival map transports visitors to a virtual Botanic Gardens with a range of new exciting events on offer each day including spectacular performances on the World Stage, a variety of cookery demonstrations in the Palm House, relaxation workshops in the World of Wellbeing, plus interactive theatre, animation, storytelling and much more for children.
The Lord Mayor of Belfast, Alderman Frank McCoubrey announced this year's Mela at Home Festival saying: "The award winning Belfast Mela, launched by the one of the city's leading cultural groups - ArtsEkta, is now the biggest celebration of cultural diversity in Northern Ireland. I am delighted that ArtsEkta have shown resilience and adapted with a very exciting virtual edition of the festival – Mela at Home.

"It has never been more important that we find strength in our diversity and be proud of all communities who make up the unique fabric of Belfast. Belfast City Council is delighted to have recently supported Mela as one of the city's four signature events through its 'Imagine' funding scheme. With significant investment over the next four years, festivals and events are a cornerstone of our new 10-year cultural strategy – A City Imagining. This funding will be used to help support the growth and development of the Mela in the long term and we look forward to seeing how ArtsEkta continues to create innovative opportunities for cultural engagement in our city."

Nisha Tandon, OBE, Founder of Belfast Mela and Director of ArtsEkta said: "We really hope our virtual festival brings people some joy, positivity and hope in these very strange times. Recent events have also created momentum in communities in every corner of the globe with equality and rights firmly under the spotlight. Our vision is a society that respects different cultures and communities in Northern Ireland. We will continue to play our part in challenging racism and prejudice by using arts and creativity to help us all embrace our differences and celebrate our similarities.
"We encourage you to log onto our new website, Belfast Mela, to pick your favourite events, many of which are interactive and created with every member of the family in mind. And of course, we'd love you to support the festival by purchasing a limited edition Mela Culture Box to create your very own pop up Mini Mela at home."

Martin McDonald , Chair of Community Relations Council (CRC) says: "The Belfast Mela is one of the brightest and best festivals the city enjoys and offers a glimpse of the forward-looking intercultural and diverse place Belfast is becoming. CRC is proud to have funded this event over the years through our CR/CD Small Grants Scheme and supported it to develop into one of the largest celebrations of cultural diversity on the island of Ireland."

Roisin McDonough, CEO, Arts Council NI says: "As one of ArtsEkta's long-term principal funders, through our National Lottery and Exchequer funds, the Arts Council welcomes the creative approach that the festival team has taken to this year's Mela. We hope this year's virtual Belfast Mela leaves you feeling uplifted, enriched, inspired and entertained in those very special ways only the arts can do."

Adriana Morvaiova of Sensata Technologies, principal sponsor of Mela at Home says: "We are delighted to be part of this amazing cultural celebration and strengthen our partnership with ArtsEkta. At the virtual Mela, we will have a great range of STEM activities to encourage children to explore and foster passion about Science, Technology, Engineering and Mathematics."
Mela at Home starts on Monday 24 August on Belfast Mela website and runs until Sunday 30 August with a variety of events lined up each day. All events are free of charge. Follow all the fun on ArtsEkta's social media: Facebook, Instagram and Twitter @artsekta
The full Belfast Mela at Home programme is available to online at Festival programme.
Mela at Home is supported by:
Funders: The Executive Office, Belfast City Council; Arts Council for NI; Community Relations Council
Title Sponsor: Sensata Technologies
Media Partners: UTV and U105
Digital Partner: Flint Studios.
Friends: Department of Finance, Department of Justice, NICS HR, Equality Commission, Encirc and Phoenix Gas