Date: 22 Dec 2020
---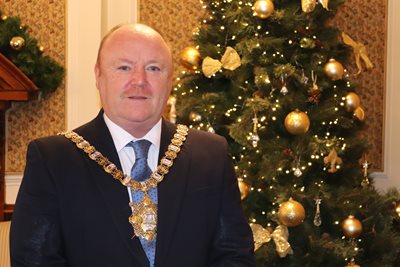 The Lord Mayor of Belfast Alderman Frank McCoubrey has encouraged people to stay safe this festive season in his Christmas message to citizens of Belfast.
Alderman McCoubrey said; "This year, Christmas will be a bit different for us all; and as we approach the end of 2020, we reflect on a year that has been like no other.
"When we rang in the new decade last year, no one knew how much our lives would be impacted in the weeks and months that lay ahead, as the ongoing global pandemic affected all aspects of our daily lives – and continues to do so.
"We have come a long way in this unpredictable journey and we must continue to focus on staying safe and follow the latest public health advice.
"It has been an enormously challenging time for families and communities across Belfast and beyond; families have lost loves ones to Covid and for them, this will be a difficult time as they have their first Christmas without their loved ones.
"Our local businesses and retailers have faced tremendous hardship and will need our support to help recover; and as a Council, we are committed to giving them that support and helping them on their recovery journey.
"Belfast is a resilient city, and its people are resilient.
"Throughout this pandemic, I have been heartened to see the community spirit that exists across the city; neighbours looking out for each other and helping each other; and there have been small – and grand – acts of kindness, each one a testament to the real spirit of Belfast and its people.
"I would also like to pay special tribute to our healthcare workers - and all the essential workers including our own Council staff – who have been dedicated to helping others throughout. Their contribution cannot be underestimated and I would like to say thank you on behalf of the city."
He added: "As First Citizen, I would like to extend my wishes for a peaceful festive season to everyone across this great city."