This page is more than a year old and may not contain the most up-to-date information.
Date: 21 Sep 2022
---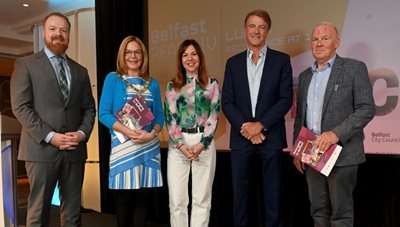 Internationally renowned Belfast journalist Bill Neely shared his perspectives on peace in NI and how we can continue to move forward at today's PEACE IV International Day of Peace conference at the Hilton, Belfast.
Chaired by Judith Hill, and attended by over 100 delegates, the event reflected on the positive impacts of Belfast City Council's £14.5m PEACE IV Local Action Plan, funded through the European Union's PEACE IV Programme, managed by the Special EU Programmes Body.
The PEACE IV Local Action Plan employed different approaches to improving community relations through the themes of Building Positive Relations, Children and Young People and Shared Spaces and Services, delivered by local agencies.
It's anticipated that over 5,000 people will have taken part in project work, site visits, study trips, residentials, action planning, networking, capacity building and accredited training right across the city by next year when the programme concludes.
Belfast Lord Mayor Councillor Christina Black said: "As we've acknowledged in The Belfast Agenda, our city has made great strides in recent years, but some fundamental issues still need to be addressed so that we can enjoy a shared, connected city which focuses on inclusive growth and leaves no-one behind.
"To achieve that vision, we all need to work together – good relations is everyone's business. Our Good Relations strategy is all about encouraging people to collaborate, integrate, have civic conversations and challenge themselves."
Chair of the Shared City Partnership, Councillor John Kyle added: "Today has given us an important opportunity to celebrate the achievements of the council's PEACE IV programme. Belfast has made huge progress as city over the last 20 years and various initiatives, not least the PEACE IV programme, have helped to improve community relations during this time.
"It's vital that people of all ages are given opportunities to build skills, leadership and confidence, create friendships and linkages between communities and are encouraged to use shared spaces and value diversity. This PEACE IV Programme has made a huge contribution to helping deliver The Belfast Agenda - recognising and building on our city's achievements in looking to the future."
The conference also gave insights from Dr Denis McMahon, Permanent Secretary, the Executive Office on the importance of investing in good relations for peacebuilding.
Patrick Kielty joined the conference virtually in a pre-recorded video to share his thoughts on peacebuilding in Northern Ireland, and how he found the strength to look for his own peace through comedy after the loss of his father during the Troubles.
Delegates also heard the views of children and young people, and Fatima Sarwari who shared her story of coming to Belfast from Afghanistan – as well as considering learning from a number of PEACE IV projects – including Transform for Change, On the Right Track and LINCS.
Eileen Chan-Hu encouraged discussion about the benefits of diverse and inclusive communities and Michael Wardlow, past-Chair of the Equality Commission encouraged delegates to recognise their unconscious bias, to challenge it, and overcome social stereotypes.
City Hall is being illuminated in the colours of the United Nations this evening to mark International Day of Peace.
For more information, go to www.belfastcity.gov.uk/goodrelations