Date: 24 Nov 2022
Category: Markets
---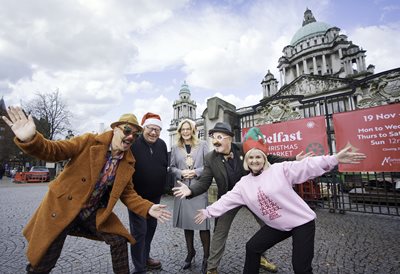 Belfast Christmas Market is supporting one of Lord Mayor Councillor Christina Black's chosen charities this year.
The market is taking place in the grounds of City Hall from November 19 to December 22 and is expected to attract over one million people through the gates.
Operators of the market, Market Place, are excited to be working closely with one of the Lord Mayor of Belfast's chosen charities, Pretty n Pink, in order to raise awareness and support for breast cancer.
Councillor Tina Black said: "I'm very proud to announce Pretty n Pink as one of my charities for the year, and I'm so pleased that it will be supported by visitors to Santa's Grotto at the Christmas Market, at City Hall. The charity does such amazing work, and over the years has supported so many families who are going through a cancer diagnosis and treatment; so this is a great way for people to give something back and people can be assured their donations are going to a fantastic cause."
Pretty n Pink is the only registered breast cancer charity in Northern Ireland and is operated by a small team with the help of volunteers from across the province. All money raised by Pretty n Pink stays within Northern Ireland and is used to provide practical help and support to patients with Breast Cancer and their families.
Allan Hartwell, managing director of Market Place Europe Ltd said: "Each year we donate monies raised by Santa's Grotto to one of the Lord Mayor's charities as a way for them to increase awareness and raise vital funds. This year we're delighted to be supporting Pretty n Pink who do such great work in raising awareness of Breast Cancer and who provide essential support to patients and their families."
More than 1,400 people are diagnosed with Breast Cancer in Northern Ireland each year and it is currently the most common type of cancer diagnosed in women from Northern Ireland. However, the disease can affect people of any age or gender. Pretty n Pink work tirelessly to provide financial and support services to patients with breast cancer and their families.

Leanne Rooney, charity director of Pretty n Pink said: "We are delighted to be back for our third year hosting Santa's Grotto at Belfast Christmas Market as one of the Lord Mayor's charities. Previous years have been a huge success, with over 3,000 children visiting our grotto. This opportunity provides us with a platform to raise awareness of our charity and the services we provide.'
Pretty n Pink will be operating Santa's Grotto at Belfast Christmas Market, which this year has the theme of a global Christmas, celebrating festive traditions from around the globe.

Santa will be resident in his grotto each day, making his lists and checking them twice.

For more information including open times visit www.belfastcity.gov.uk/christmasmarket