Date: 17 Sep 2020
---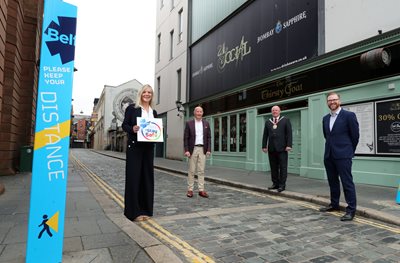 Belfast City Council and city stakeholders today reaffirmed their support for the city's retail and hospitality sectors as they work to keep Belfast open and safe for everyone within the current Covid19 restrictions.
Lord Mayor Alderman Frank McCoubrey and the Council's Chief Executive Suzanne Wylie met with Belfast Chamber and Hospitality Ulster to emphasise the importance of businesses across the city following the current guidance, and for people to continue following the public health advice around social distancing, face coverings and regular handwashing.
Lord Mayor of Belfast, Alderman Frank McCoubrey said: "As we all come to terms with the unprecedented circumstances we currently find ourselves in, we want to remind businesses, and the wider public, that they have a role in helping to keep each other safe, and ensuring that the city centre remains open.
"One of our main priorities is how we can best support our retail and hospitality sectors to prosper whilst still ensuring public health advice is adhered to.
"It has been an exceptionally difficult time for businesses right across the city and Council is committed to supporting them to comply with restrictions to stop the spread of Covid19."
Alderman McCoubrey added: "Back in June we launched our 'Confidence Mark' for the city to reassure members of the public that we have introduced safety measures and we are working hard to keep them safe. This confidence mark combined with the city centre safety messaging reinforces the message that the city is open, but we are appealing to the public that when they visit, they do so responsibly.
"I hope that people will be reassured that Council and our city partners are working hard to keep people safe but we need everyone to do their bit - wear face coverings, wash hands regularly and use hand sanitiser, and remember that social distancing is still crucial when it comes to stopping the spread of the virus."
Simon Hamilton, Chief Executive of Belfast Chamber said: "Belfast is blessed with some of Northern Ireland's best hospitality venues and whilst they've been through a tough time in recent months, many of the city's bars and restaurants are now open with businesses working hard to ensure staff and customer safety. Measures like social distancing or ordering via an app might mean that the experience you have is a little different to normal but you can still be assured of a great and safe time out on Belfast".
Colin Neil, Chief Executive of Hospitality Ulster added: Colin Neil, Chief Executive of Hospitality Ulster added: "Undoubtedly this has been a very challenging time for our retail and hospitality sectors, however rest assured they are very much open for business and keen to get people back through their doors. Lots of innovative and fantastic work has taken place to make people feel safe and welcome during their visits to our shops and restaurants. The retail and dining experience may have changed but the enthusiasm of the work force is still alive and well. I'd encourage everyone to support local business and help us revive our local economy."